www.andrerieumovies.com
www.andrerieu-fans.com


Media News. Translated by Entia Shadwell.
In the new program "Evenblij with ….. ", Frank Evenblij speaks to orchestra leader and the Netherland's best export artist: André Rieu. Despite his successes many people still don't take him seriously. André Rieu: "I play my music for ordinary people. I do not regard myself as art with a capital A".
Frank Evenblij follows Rieu during a concert series in Rio de Janeiro.
From behind the scenes Frank witnesses the amazing response of the people of the samba to the waltz. What is the secret of the unprecedented success? And what are the limits to Rieu's triumphs?
"I will not go to the North Pole as it is too cold there. But the moon? I have spoken to Richard Branson who intends building a hotel over there. I want to view the earth from there; that's something I've wanted to do since I was a little boy. And now I really want to do it".
Frank visits Rieu's home in Maastricht as well as the house where he grew up. Here he is confronted with his past and with the memory of his strict father. Evenblij with…. André Rieu will be broadcast on Saturday, October 12th, at 10.30 PM on "Nederland 1" (VARA).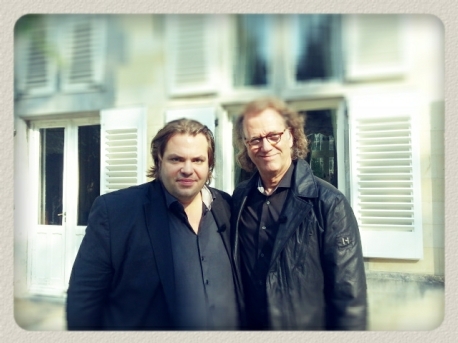 Translated by Dutch Ineke, edited by South African Entia,
while American John is attending concerts in Australia
and Sue is running the HP website at home in the USA.
More articles on this website about the Rieu family:
Click on HERE to read a few chapters of Jean-Philippe's (André's younger brother) book.
Or click HERE to read another article, published in the Privé Magazine, February 2012.
To see André's birth house at Plenkershoven, click HERE