www.andrerieumovies.com
www.andrerieu-fans.com


Maastricht 2014
Exhibition Marc Rieu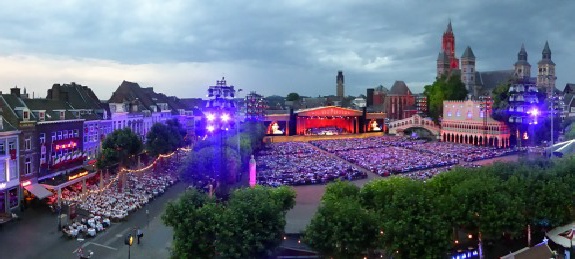 Exhibition Marc Rieu
Like previous years, Marc Rieu hosted an exhibition of his paintings at the Vrijthof theatre. This exhibition could be visited on concert days.
Watch the video below for an impression of this exhibition.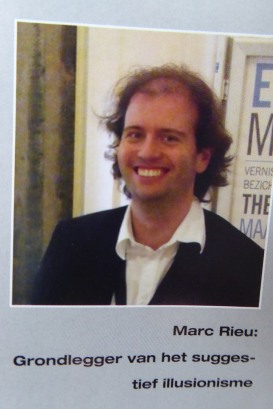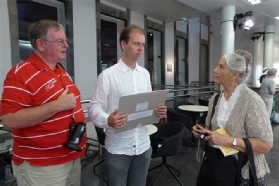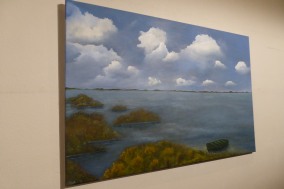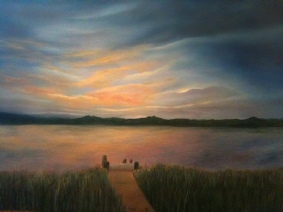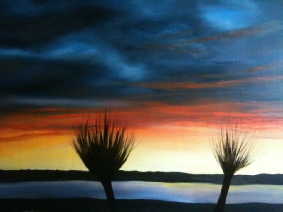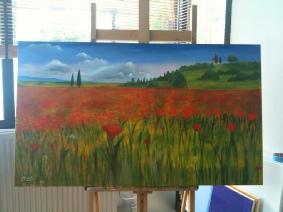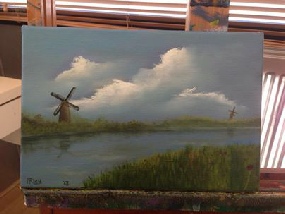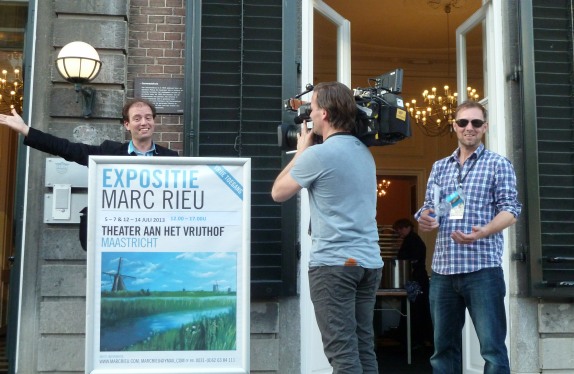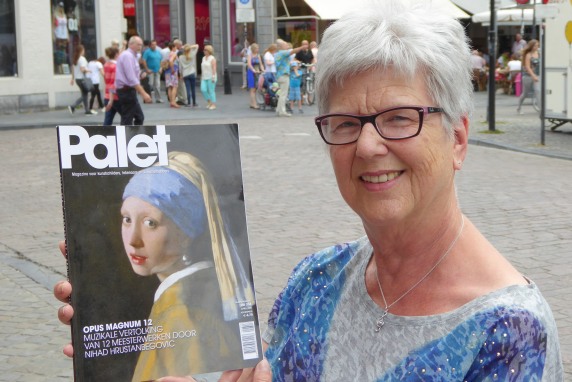 Marc gave Ineke "Palet", a magazine for painters, illustrators and art lovers. In this edition from 2012, is an interview with Marc about his paintings.
The article is translated by Ineke and edited by Entia, in August 2014.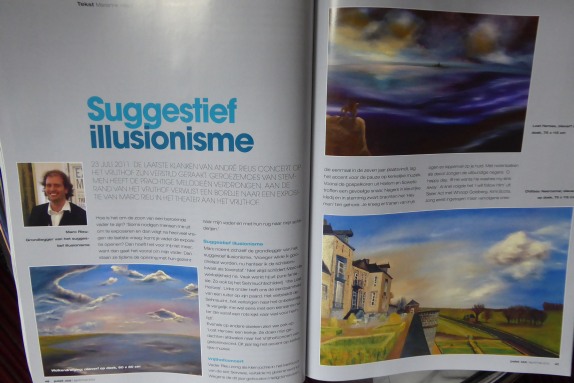 Suggestive Illusionism (article by Marianne Visser-van Klaarwater).
It is the 23rd of July 2011. The last sounds of André Rieu's concert on the Vrijthof have faded away. The buzzing of voices have replaced the beautiful melodies. At the edge of the Vrijthof a billboard still refers to Marc Rieu's exhibition in the Theater.
What is it like to be the son of a famous father?
"Sometimes people invite me to exhibit. There are many questions and then the last: "Will your father be opening the exhibition?"
Then it is clear to me that they are inviting me because of my father.
Invariably, during the opening, they stand with their faces turned towards my father and their backs to my paintings."
Suggestive Illusionism.
Marc refers to himself as the founder of suggestive illusionism.
"In my youth I wanted to be a magician." Consequently, Marc does not always paint in the realistic style, but often uses the painter's brush as a magic wand. He frequently works from pure imagination, as exemplified by the 'Sehnsucht' (Longing) painting: The Lost Heroes. In the lower left corner of the painting, the loneliness of a horse rider is striking. It symbolizes longing; a yearning for the unknown. "I sometimes compare myself to a lonely horse rider, standing on a rock and observing what is in front of me." As on other canvasses, Lost Heroes features a little church. That reminds me of yesterday's Vrijthof concert. The theme of this year (2011) was religious music.
Vrijthof concert.
Father Rieu told the audience during his concert that he sang in the church choir of the St. Servaas Basilica as a child.
Due to this being the year of the Holy Procession, which takes place every seven years, the theme of the concert before the break was religious music. The gospel choirs from Harlem and Soweto in particular, elicited strong emotions. Black people in both colorful garments as well as somber black performed Hey Man.
It resulted in tears in the eyes and goose bumps on the skin..... With musical notes as decor, the passionate black people sang O happy day, if He wants, He washes my sins away, followed by I will follow Him from Sister Act with Whoopi Goldberg. In her rendition of Agnus Dei, Kimmy Skota started out in subdued fashion, building up to a passionate crescendo. The Johann Strauss Orchestra brought together the world of Johann Strauss and gospel music in the Nun Choir from Casanova by Johann Strauss. All of these factors contributed to making this particular André Rieu concert one huge touching tribute to God.
Does religion play a part in the Rieu family?
Marc, speaking for himself: "I was not raised in the Roman Catholic faith and I don't believe in God." But I can appreciate religion. During my stay in Rome (1996) I was suddenly touched; the mass, incense, the bishops in official vestments and then all of a sudden, the sun setting through the stained windows. That elicited an unexpected 'wow-feeling' in me. Whenever I think of that, I still get goose bumps. 'Puer Natus est nobis'.
(A child was born for us)."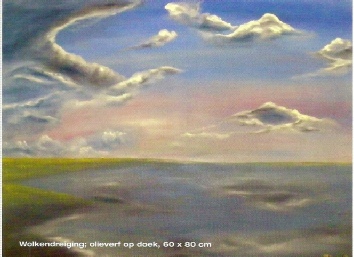 Inclement weather.
It is raining on the Vrijthof. Pointing to the painting, Cloud Threat, he says: "I create my most beautiful paintings with heavy weather. The sky cannot be dark enough. Autumn is my favorite season, because of the colorfulness. As a second Van Ruysdael (Dutch painter), Marc prefers to paint clouds in the sky. Look at this painting of Chateau Neercanne. I had finished the sky, but did not yet know what to paint below. Until I saw a picture of Chateau Neercanne."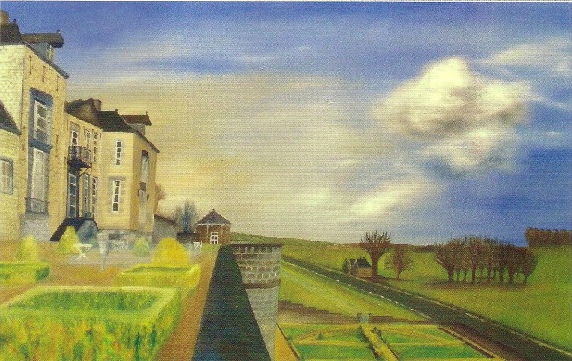 Van Gogh.
Marc already painted as a little boy. When I was 2 or 3, I took all the art books from the shelf to gaze at the pictures. During the celebratory Van Gogh Year (1990), I was deeply touched by a television documentary about Vincent van Gogh, which inspired me to consider studying Art History at university. In 1998 Marc began studying Art History and Archeology at the University of Nijmegen. In 2006 he concluded his study with an essay on two landscape painters from the 19th century: Caspar David Friedrich and Johan Christian Dahl. The German Romantic, Friedrich, fascinated me not only because of the interaction between romance and fiction in his work, but also because of the mysticism and mysteriousness in it. No one can place the insignificance of human beings against the greatness of nature better than he can. Together with Dahl he stayed at Dresden, where they influenced each other.
While painting, Marc often plays music from Lord of the Rings. Other sources of inspiration are: Beethoven's Pastoral, the scenery of Tuscany and especially Norway "where you may find inspiration for a new painting beyond every bend in the road. I smell, see, feel and taste nature. I cherish a desire to see the Northern Light at least once." His greatest role model is his father. "He tried anything to make his dream come true. I don't see him very often, but we have a close bond. He made me aware of questioning why you do something."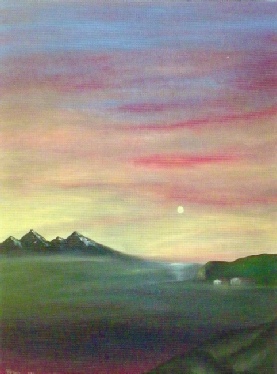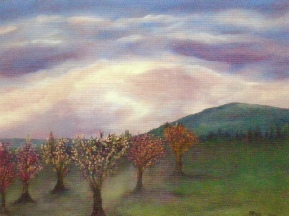 Marc, happily married and father of a boy and a girl, regards himself as a "romantic dreamer", who sometimes loses sight of reality. My wife brings me down to earth again, because tea is ready or one of the children needs a clean diaper.
Marc's life motto is on his website www.marcrieu.com, embodied in the wonderful sentence: "Yesterday was history, tomorrow is a mystery, today is a gift. That's why we call it the present."