www.andrerieumovies.com
www.andrerieu-fans.com


History of Fan Web Sites
January 2013
BELGIUM / FRANCE: 2000 and 2002.
As far as we know, Martine Foxhal from Liège (in the French speaking part of Belgium) started the first André Rieu Fan Website in French in 2000, named: "Le Violon Magique" (the Magical Violin). This site with its beautiful graphics is still there, but the activities have stopped.
Martine's input: "Yes, I built the very first site about our dear Maestro. Just one or two months after the opening of André's official web site. I bought two domain names: "andrerieu.net" and "andrerieu.org" for my new site, which only contained some pages of my own research (CD's, DVD's,) and translations of the news which André also published, in French.
Of course the two domain names created problems with André Rieu Productions, since they desired ownership of these two domain names. After discussions with their lawyers I resold the domain names to André Rieu Productions and opened "Le Violon Magique" in April 2001. Two years ago I relinquished this domain name and I now publish everything under my personal domain name "foxhal.be". www.foxhal.be/leviolonmagique .
I do not have sufficient time anymore to keep the site up to date. Besides, there are now several very good fan sites".
May-Rose Fornier from France started a fan website in 2002. She has been a fan since 1988. She currently still runs a blog in the French language http://fanderieu.forumdefan.com . And every year she is in Maastricht to attend a concert and the fan picnic.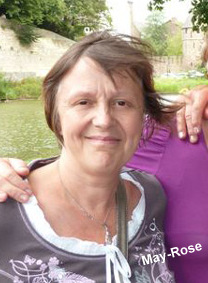 GERMANY: 2003 and 2005.
Currently running and very up to date are two German Fan Websites:
Kathi's German fan website "André Rieu and friends" http://andrerieu.de.to
opened in January 2003. This year (2013) Kathi celebrates the 10th anniversary of her website, founded and still running by her. Initially Kathi Schumacher and Elke Bliefering ran the website together, but in September 2005 Elke started a Fan website of her own, first named "André Rieu Treffpunkt" and from 2009 till now it is known as: "Rieutreff", http://rieutreff.de.tl/. Elke was in Maastricht in 2005 and 2006.
Beate Gundler started in 2005 her website: "Merlins-online" http://www.merlinswelt-online.de . Her website contains an André Rieu Fan Part.
Peggy Gränz recently closed down her German fan Site.
USA: 2002, 2004 and 2007
Sonja Harper (Sonja is from the Netherlands and now lives in the USA) started a small free AOL site in 2002 and changed it to www.andrerieutranslations.com in 2004.
Sonja's Input: "On April 26, 2002 I went to my second André concert here in the USA (first one was in 1997). I bought the ticket the day before the concert and had a seat in the first row on the right. That tells you a little about the turn-out. It was in the concert Hall of the Ohio University in Columbus Ohio, which holds about 2500 people. Both the left and the right side were almost empty with most people sitting in the middle, but overall it was quite empty. I spoke with some of the orchestra members during the intermission. Suzan, Karlien, Arthur and Cord, and they suggested I wait by the bus if I wanted to see André. I did and actually spoke with André for about 10 minutes. I said that I had seen no ads anywhere and at least for the 1997 concert there had been some small ads in the local papers. He said he had hired a promotion agent and that the agent had done a lousy job. I felt bad that this guy, who sells out all over Europe, was playing here for an almost empty hall. He had brought his buses over and even had his exercise bus with him.
When I got home, I started looking on the web and found Martine's site. I wrote her, she does speak English but no Dutch, so I suggested that if she needed a translation I would be happy to help. A few days later she sent me an interview. I translated it and she put it on her site, in French. Well that did not help the English speaking fans, so I offered the translation to André's guest book and I was overwhelmed with requests. I sent out the translations to many fans and saved the email addresses in my address book. A few weeks later the same thing happened. I sent the translations to Martine and then offered the English version again for André's guest book. By then my summer vacation was nearing its end and I would not have time to send translations to all the people asking for them. So my daughter set up a simple website on AOL in August 2002 and "Translations" was born.
I sent out one final mailing to let the people know that they would be able to find the translations of interviews and articles on my new website on AOL. I also put several notes in André's guest book about the new site. Friends in Holland started sending me articles and I posted them on the site, and also sent them to Martine. She and I worked together, she was a lot better on the computer; I was very much a novice. But the site grew and by early 2003 I had a mailing list of about 500. Also in 2003 John contacted me via e-mail and offered his assistance with translations, which I accepted. I sent out a mailing and asked people to send me cards and notes for André, so I could let him know that we very much wanted him to come back to the States. He did not come in 2003 and had no plans to return anytime soon after the loss he suffered in 2002. I took my letters to the July 11, 2003 concert in Aachen, (Germany) and asked if he would please come again. He did in 2004....
In 2004 I received a phone call from Sally Chaney asking me about André and my website. She was going to set up her own site and had much more experience with computers than I did. We worked together for a while. I had started sending out newsletters to the fans on my site, but did not have enough space on my AOL Site at the time to post them there. So Sally said she would be happy to post them on her new site www.andrerieufans.com . She even suggested I start a better web site and she would help. I moved my AOL site to the site where it is now with its own domain name, after she told me how to do it. Shortly after that, due to some disagreements,Sally and I parted ways.
Years later I talked to Sue and told her I wanted to add a blog for all the latest news and a new guest book so fans could talk a bit more together. This of course was before Facebook. I named the blog the Harmony Parlor and am glad it worked so well. Laurie Crowley answered questions in the guest book and Sue put the news on. What a team we had, I did feel bad about stepping back, but when my daughter Mara and the kids moved in I just did not have the time for it anymore. I am happy Sue and John have taken the Parlor and developed it to what it is now. Although I have put the Translations site to sleep now, you can still go there to explore a lot of very interesting information from early days which you will not find anywhere else on the Internet!
That was my story, how I kind of rolled into it because I felt bad for André here in the USA".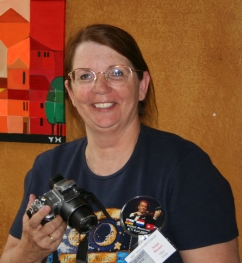 The Harmony Parlor: http://harmonyparlor.blogspot.com
John de Jong and Suzanne Berry (John is from the Netherlands and now lives in the USA).
Sue's Input: "In 2007 while in Maastricht for André's Concerts there, Sonja asked me if I would like to start a site as an extension to Translations with all the "current" news of André and the JSO, as she was no longer going to have the time to keep up with her Translations Site. She said she wanted to call it "The Harmony Parlor". At first I was very hesitant because I really had no idea how to do a Fan site! In the end though, I told her I would give it a shot, but only if John would do it with me as the Translator for it. My first thought was if I'm going to do it, I want to do it right and in order to do it right I would have to have John as my partner.
We met at Gaucho's that afternoon and I told John all about it and asked him if he wanted to do it with me. What stands out in my mind the most was the funny face he made while he was trying very hard to get the word, "yes" to come out of his mouth! He was as nervous as I was about taking on a venture like that. We both felt the same way about it. If we were going to do it, we wanted to do it right and make it something that we could be proud of and the fans would like. Our second thoughts once they sunk in that we were now committed, were: "What have we gotten ourselves into??!!"
We came home from Maastricht and I got busy setting the Parlor up and get ready to start posting news. We made our first post a month later, August of 2007 and our first Translated article by John in September. It is hard to believe, but we've been going at this now for six years come this August! I know I speak for John as well when I say the Parlor is something we are both proud of and that we enjoy doing what we do. And as most know, our friendships with Ineke and Ruud and the interaction we share in many things, have made both the Parlor and the Movie Site what they are today ... we work closely together to try to get the news out to all the fans as quickly and as accurately as possible. John and I both are grateful to Ineke and Ruud for all their input to the Parlor ..."
THE NETHERLANDS: 2007
More memories by Sonja: "In Holland there was a fan website, it was run by Ineke and Peter van der Berg, even before I started looking for André, but that did not last long. My impression was that André was not happy with the early fan sites. He has always said that he did not want to have an official Fan Club, and I think he saw these early fan sites as such".
Ruud and Ineke Elshout-Cornelissen (who live in The Hague, the Netherlands). www.andrerieu-movies.com .
Ineke's Input: "Ruud and I have known André since the 1980's, but we were never aware of the early Dutch fan site. We already attended a concert in 1988.
After having performed outside the Netherlands for a long time, André Rieu returned home with a spectacular performance in a huge soccer stadium in Kerkrade (Limburg) in 2004. Sonja was there, as well as myself and Ruud. Here we met our first André Fan friends: Gemma and Nand from Belgium. We were blown away by André's spectacular show (DVD The Flying Dutchman), and became fans for life! In the beginning we sent our translated articles from Holland to both Sally and Sonja. However, a conflict about a translation arose with Sally and from then on we only continued our cooperation with Sonja.
Sonja's mother still lives in The Hague and during her visits to the Netherlands Sonja stays at her mother's house. So we have met several times in our hometown of The Hague and of course in Maastricht!
Then in January of 2007 we started our own site, The Movies Web Site from the Netherlands, specializing in videos/interviews, more or less as an extension to Sonja's Translations site. Sonja and John de Jong assisted us with the English language and to this day John is still assisting us with all our English translations. It was around that time that Sonja was working in a full time job, her family moving in with her and she just did not have the time to keep her Website updated. She had to stop working on the Translations site, and let it become dormant.
Sue, John and Sonja, all from the USA, and Ruud and I from the Netherlands, met in Maastricht in July 2007 and discussed the web sites. Sonja needed an extension to her website for current news. Sue and John agreed to work together to set up the Harmony Parlor and continue Sonja's guest book. So the Harmony Parlor was actually born in Maastricht!! Sue and John opened the Harmony Parlor that August. And from then on, the Harmony Parlor and the Movies-site have worked closely together for all English-speaking fans. A few months later the Aussi- and New Zealand websites were founded and Jann in Australia arranged the cardboard André for us (when we were in Australia during our holiday in 2008). Cardboard André is still welcoming the fans during the yearly fan dinner in Maastricht. Sonja, Sue, John, Ruud, Jann, Reuben and me experienced great site cooperation over three continents".
AUSTRALIA: 2007
By Jann (Moonbeam) Treyvaud From Melbourne.
Input for Jann by Sue from The Harmony Parlor ...
"Gina in Australia started a small blog for the Australian André Rieu Fans in September of 2007, but soon after was unable to continue with it and it was then that Jann stepped in and started "The Aussie Fan Website" ... Through Jann's connections with Universal, the news of André's breakthrough in Australia was always first and extensive and she shared it all with The Harmony Parlor and Movie Site. She soon had a thriving Fan Site that was the fruit of her dedication and very hard work.
Jann and I became friends in 2007 and worked many nights burning the midnight oil on the phone together to get news articles out for both sites. There were many times when Jann would have to get permission from Universal to share the exclusive articles with The Harmony Parlor. Without Jann at that time, we would have had very little news out of Australia. So many things she did that most are not aware of. She was asked by the Rieu's, through Universal, to have groups at the airport to greet André when he arrived there, more than once. And she organized these perfectly as she did with so many things. There was an instance where she did not have enough notice to organize a group to meet him, so she drove with her daughter Rebecca and granddaughter Isabella in the middle of the night to the airport to greet André upon his arrival. I think we all remember the picture of little Isabella with the tulips for André as he got off the plane.
So many things she did to spread the news of André in Australia, but Jann told me more than once, that what she was proudest of, was starting up "The Australian Friendship Groups". All her "little Ducks" as she would call them, meeting up and getting together making lasting friends through André and his music ... she was truly proud of that. Those groups are still going on today and with new groups forming still.
And then there was her organizing of the famous Vegemite Tasting in Maastricht on the Terrace of Gaucho's in 2009. I helped her with it in Maastricht, but it was Jann who organized the whole thing. And even she was surprised by the big success of it!! With Mirusia showing up to sing the Vegemite song for everyone and Gary also dropping by to sing along with all of us and taking photos with everyone ... it was magical and all thanks to Jann. There were so many things she did that it would take pages to write them all ... In the same year, 2009, we took a photo of all of us at Gaucho's. The only time that all of us were together at the same time (Jann, myself, John, Sonja, Ineke and Ruud).
In the Spring of 2010, Jann had to close her Website down when her husband Murray became very ill. And sadly in July 2012 while on holiday in France, Jann was hit by a car while crossing the street and due to that accident, we lost her on August 4, 2012 ... but she will be remembered always for her dedicated work for all André fans and loved by all who knew her".
NEW ZEALAND: 2009
Reuben Simpson (who at that time was 16 years old! So let no one say that Andre's music only appeals to elderly people!!) began his New Zealand Fan Web site in 2009 but closed down in 2011, since he needed more time for his studies. We still follow Reuben's life and singing career via Facebook. He is a member of the New Zealand André Rieu fan group.
BRAZIL: 2012
In 2012 a Brazilian website arose: www.amigosdeandrerieu.com.br in the Portuguese language. The administrators are: Rudolfo Schneider, Mercia Cosac, Maria Ines Oliviera, Angela Momm, Dolores (Dolly) Drefahl.
We met Edison and Dolly Drefahl (utmost left and front row left) several times in Maastricht and Maria Ines (back row right) was there in 2012. Rudolfo (utmost right) and Angela (front row right) with family, will be in Maastricht in 2013 and they signed up for the fan dinner.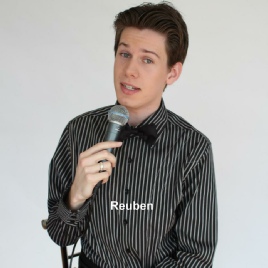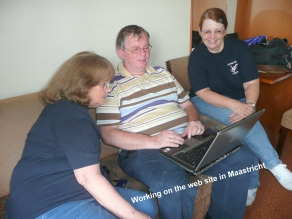 Webmasters at work to provide the fans with the latest news,
from the hotel room in Maastricht. Photo: 2007.
To translate from the German language, John puts on his German hat for more inspiration….
FACEBOOK:
As far as we know there are over 30 different André Rieu Facebook Pages, from Belgium, France, a chat group from the UK, Germany, Denmark, Poland, South Africa, Romania, Brazil, Argentina, Uruguay, Chile, Israel. And from the USA there is a lively André Rieu Fan Site on Facebook: André Rieu Fans Harmony Parlor, run by Sue Berry in the English language, with almost 800 members from all over the world in 2013.
Note: in 2014 over 2000 members, in 2015 over 4000 members. The group grew in 2018 to over 10.000 members! Which proves how successful the fan group on Facebook is.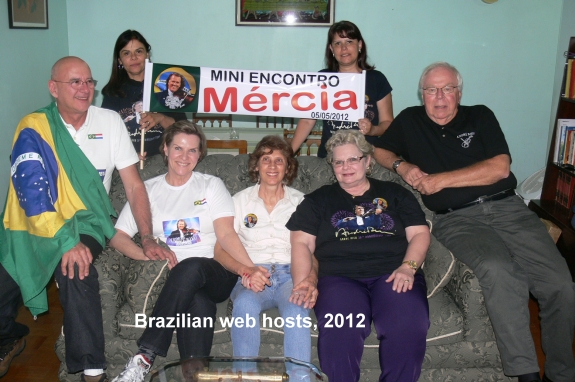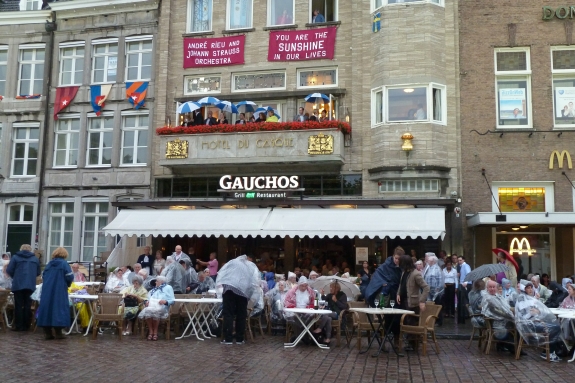 This says it all: sunshine in the rain! (2011)
Hotel DuCasque and restaurant Gauchos: Vrijthof, Maastricht.
January 2013.
The History As We Know It of The André Rieu Fan Websites Worldwide.
Created by Ineke For The New Fans.
In reference to the 6th anniversary of the "André Rieu Movies Site" in January 2013 and John and Sue's 6th anniversary of the Harmony Parlor in August 2013, I'd like to write a review for the new fans about the history of the André Rieu Fan web sites, as far as we know.
- André Rieu founded his Johann Strauss Orchestra in 1978. During the 80's and 90's, he was already well known in the Netherlands, Belgium, France, and Germany.
- Ruud and I had already attended two concerts in small theatres in the Netherlands: The Concert Gebouw venue (Concert Building) in Amsterdam in the 80's, and at the Carré Theatre, also in Amsterdam, in the 90's. Initially André was more famous in the neighboring countries and would perform more often in Belgium, France and Germany than in the Netherlands. In 1995 his big breakthrough in Netherlands came about with the Second Waltz.
- In 1997 André performed for the first time in Canada and the USA, and primarily toured the East Coast. In April 1998 André and the JSO performed in Los Angeles and Concord, California, and did not return to the USA until 2000.
- André started his official website www.andrerieu.com in 2000.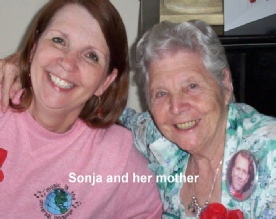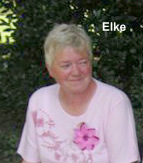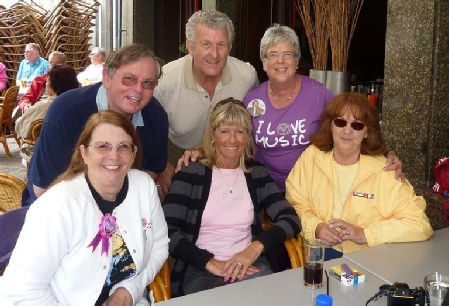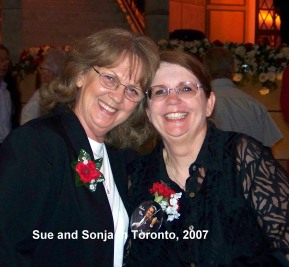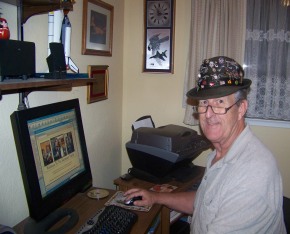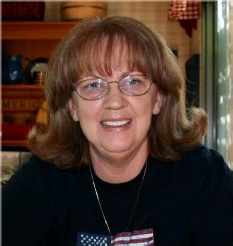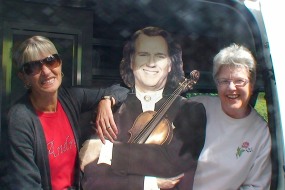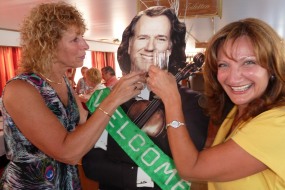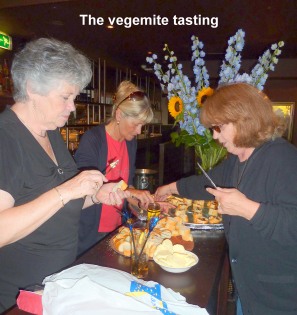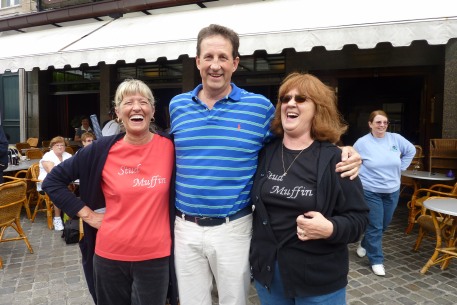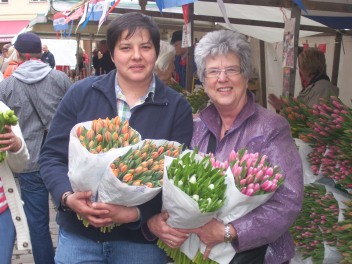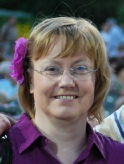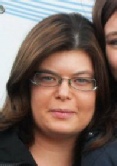 Pictures:
Elke, Beate,
Peggy,
Kathi, and Ineke
(at theTulip Festival in Potsdam, Germany).
Reuben Simpson started
a New Zealand fan web site.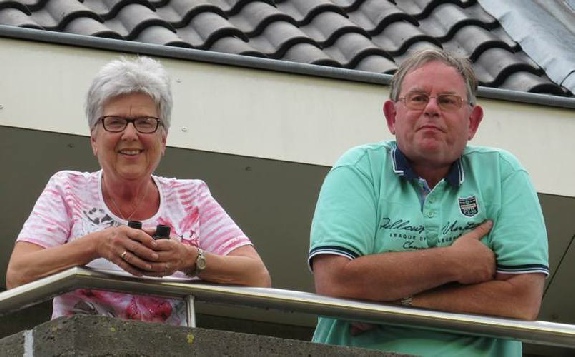 Ineke and Ruud, every year in Maastricht, as from 2005,
organizers of fan dinners and fan picnics.
NOTE 1:
Sally Chaney's American fan website www.andrerieufans.com (2004 - 2014) was closed down in 2014 and disappeared from the Internet.
NOTE 2:
In 2015 Elke Bliefering closed down her German Rieutreff website (2005 - 2015).
Elke passed away in 2017.
NOTE 3:
A milestone: The André Rieu fan group Harmony Parlor on Facebook, grew to over 10.000 members in 2018. It took over the interaction between fans of the website guest books.