www.andrerieumovies.com
www.andrerieu-fans.com


André Rieu Magazine, the man behind the artist.
December 20th 2011.
Food:
I love Italian food, but also a good steak and French fries.
But I like best: "andijvie met krèpkes" (endives hotchpotch with bacon).
Do you want to see André cook his favorite meal in his own kitchen?
Click here to see the 2006 video.
Film:
Sound of Music.
Book:
Kuifje (Tintin)
I don't have much time to read. When I sit down with a book on my lap, Marjorie starts to laugh out loudly, because most of the time I fall asleep within a few minutes.
Motto:
Live your dream, don't dream your life.
I'd like to treat myself on:
Chocolates and every now and then a nice bottle of Bordeaux wine.
The ideal Sunday:
Play with my grandchildren, walk with Marjorie and the dogs and do some garden work.
Way to relax:
Sleep. I can sleep anywhere and always. A small power nap, and I feel fit again.
City:
Maastricht.
TV-program:
Top gear.
Composer:
Johann Strauss.
Actor:
Anthony Hopkins.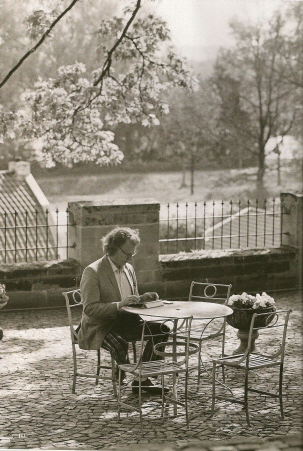 Meet........ (Posted: January 6th 2012)
The stage manager: Roos Aerts.
Roos Aerts is the stage manager and responsible for the construction of the stage. Safety is of utmost importance. Unflappable and with a loud voice, she hails the musicians when it is time for the performance to start. The festivities can commence.
"We are a small village with 120 inhabitants and ANDRÉ as the mayor".
"I am the central axis and the main point of contact between the various technical crews. It is my duty to ensure that everything runs as smoothly as possible. Communication has to be excellent. I usually work with eight departments: production, décor, sound, lighting, video, security, catering and garderobe. But in the larger arenas this number doubles and then I have to work with round about 350 people. Every country has its own culture and special ways of doing things. You have to familiarize yourself with that. Fortunately I speak English, German and French well; a prerequisite for good collaboration. It is pleasant to work with a local team because they are, of course, more familiar with the local setup.
We work according to a tight schedule. When we are on tour, the entire crew travels by night liner, or, as it is often referred to in the USA, an "entertainer coach". It is a special type of bus which is used for the transportation of musical groups and their technical crews and has been designed to carry between eight and eighteen passengers. These vehicles are equipped with comfortable seats, bunk beds, mirrors with black frames, DVD-players and plasma-TV. We use three night liners to accommodate our crew. We travel to our destination during the night or depart early in the morning. When we arrive at the new venue, we have lunch and then immediately afterwards proceed with the construction work. The stage has to be completed first to enable André and his orchestra to rehearse there during the afternoon. When the show starts, the crew retires to the night liners to sleep. When the concert is over - usually by midnight – it takes the crew about three hours to dismantle everything before we start the journey to the next city.
It is difficult at best. I have a relationship with a member of the orchestra but I usually sleep in the night liner while the members of the orchestra sleep in a hotel. Otherwise it would be impossible to meet logistic demands. I see more of my crew than of my partner and only have about fifteen minutes per day to myself. Every person enjoys freedom and creativity within his/her function. Naturally, as the stage manager, the ultimate responsibility lies with me, but it is important that everyone feels inspired and stimulated, and that we continue to learn from each other. Every venue is different, but with flexibility, a strong focus and team spirit, everything eventually works out well.
All elements of the show come together brilliantly. Even people who don't like it, can appreciate the professionalism and dedication that go into the shows. Actually we are just a small village with 120 inhabitants who travel all over the world. André is our mayor and the magic lies in the intimacy of this setup."
Roos Aerts was born in Venlo in 1972. She worked as stage manager for "Opera Zuid" before joining Rieu with whom she's seen much more of the world. Roos and cellist Tanja Derwahl have a 2-year old son, Louis Sydney Aerts, who was named after the city, Sydney, because Roos was there when he was born.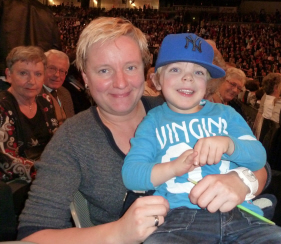 From: André Rieu Magazine, page 103. Translated by Entia.
Entia, from South Africa, offered to do some translations for us. Her native languages are English and Afrikaans. Afrikaans is the third most spoken mother tongue in SA. It is a derivative of Dutch and originated in the 17th century after Dutch settlers colonized SA. That's why Entia can understand Dutch and we can understand Afrikaans! Entia makes John's and our job a little lighter! Thank you Entia!
We'd like to introduce: ENTIA!
On January 7th 2012, the Harmony Parlor posted an article about
First Violinist Frank Steijns.
Translated by John.
From: André Rieu Magazine, page 73. Click on the picture to read the article.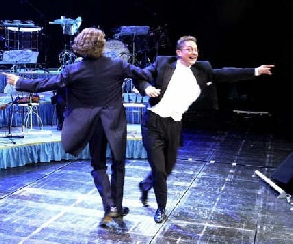 Andre Rieu Magazine, page 35 Text: G. de Roos.
On tour: Saturday afternoon, Amsterdam ArenA.
André does his traditional power nap. A sign on the door makes clear that silence is required. On the parking deck is a golden carriage with six white horses, especially flown over from Vienna. By now I am not amazed about anything any more!!!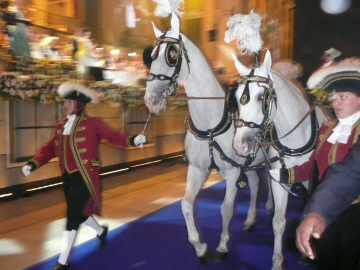 Photo by Ineke, Cologne 2012.
To our German speaking fan friends: Kathi, moderator of one of the German websites, translated some chapters from the André Rieu Magazine in German language. Click here, to link through to her website!! Thank you Kathi!!
Meet............ (Posted: January 9th 2012)
PR, Media and tour manager: Kerstin Cornelis
Kerstin Cornelis dreamt of becoming a sports coach. However, back problems put paid to that and she had to abandon her studies. But Lady Luck smiled upon her, and, to cite a Flemish expression "she fell with her behind in the dairy produce" when Rieu spotted her sterling qualities at first glance.
"Respect, inspiration and iron discipline constitute the success formula".
"After studying PR and Tourism in Brussels, I was employed as tour manager by 'Up With People' in America. I resigned from this position after meeting my husband, but I soon became bored and wanted to work again. At the employment agency in Maastricht I noticed an advertisement for the position of tour manager to a well-known South-Limburg artist. I had no idea who that person was. But it seemed as though the vacancy had been filled. I nevertheless left all my particulars. Before I reached home I received a call to arrange an interview. It seemed as though it was not easy for André to find a good organizer and personal assistant. When I was introduced to the staff, a colleague enquired whether it was necessary to remember my name. I was the third person within a short period of time to attempt to manage the promotions and tours and undertake the preliminary trips. Apart from the PR, I am also responsible for media relations and the logistics of all tours. I assess all the hotels – sometimes even a year in advance. Previously locals in other countries arranged the promotions, but, in America for instance, we had bad experiences. Consequently, André decided to do it himself. When he announced his concerts on the television specials of PBS (Public Broadcasting Service) with the slogan, 'Waltz To Your Phone', his popularity soared. Even world-renowned stars such as Anthony Hopkins and Whoopi Goldberg approached him and this led to the establishment of valued friendships and co-operation.
The concept, 'André Rieu Productions", changes and grows daily – it is not static. Therefore you have to be able to make adjustments on a psychological
as well as a practical level. All the links in this enormously complex structure are important. If one section or department does not function well, the whole structure will collapse and everyone is aware of this. I regard respect, inspiration and iron discipline as the basis of the success formula of Rieu and his organization. Rieu does not have a replacement for anybody. That is inspirational. The period following the birth of my daughter in 2008 was hectic. Shortly after my confinement we had to tour Australia for five weeks. When touring, I easily work sixteen hours a day. Fortunately I had a good friend who accompanied us as my nanny. I never forget how I was feeding my ten-week-old daughter during a concert in Melbourne with the sound of an increasingly enthusiastic 38,000-strong audience in the background. Even though at times I see more of Rieu and his orchestra than of my husband, I am living my dream"
Kerstin Cornelis was born in Dendermonde near Brussels (Belgium) in 1967. She is married and has two stepsons, Justin and Quentin, and a little girl, Ayko. "Ayko" means "girl from love" in Japanese. Kerstin likes music very much but professes to sing in a rather false tone.
Getting to know...... (Posted: January 10th 2012)
Violinist Boris Goldenblank.
Boris Goldenblank is not only a violinist of the André Rieu orchestra, he is also responsible for the repairs and yearly maintenance of all the string instruments. Accompanied by a security person, and if needed, Boris flies to Paris or Vienna to have these instruments repaired.
Through the strings of my violin, I try to touch everyone's heart.
When we went to Mexico City for a concert, three cellos appeared to be seriously damaged when we arrived. Due to the damage, it was impossible for us to perform the next evening. Fortunately I have worldwide contact with musical and artist friends from Russia, who left my native country during the turbulent 80's.
Even in Mexico I could count on them. Through so and so and so and so and after many phone calls I was finally able to make contact with an excellent local luthier. Within 24 hours the cellos were again ready to go on stage!
Music is the most important thing there is. From the age of four I already went to the local music school in Kishinev, Russia, and I started to play the violin. In the beginning I did not have much talent, but step by step I managed to develop it. Sometimes talent is nothing more than tireless effort. There were a lot of good teachers and other musicians which helped in my development. Finally I completed my education at the Conservatory of Moscow. In 1990 I immigrated with my family to the Netherlands. A Russian friend and colleague lived in Maastricht and suggested I audition with the Limburg Symphonic Orchestra. I was immediately accepted, mainly due to my many years of experience playing with the world famous Moscow Philharmonic Orchestra, where I was allowed to work with famous conductors like Dmitri Sjostakovitsj and Aram Chatsaturjan and where I learned to play great compositions like the Spartacus ballet and the Second Waltz. Fortunately I spoke a little bit of German, so I could adapt easily in the Netherlands.
In 1999 André Rieu asked me if I would like to come and work in his Orchestra. I have always been a huge admirer of him. He flawlessly understands the audience. The love for music is primary for both of us. André is also very involved in his people's lives. During our tour through South Africa, the viola and flute players were both pregnant. André let them fly comfortably in first class. Something like that makes me profoundly happy! My contact with André is exceptional; there is an openness and trust between us. He is too busy to fly back and forth for all the necessary repairs and checks of the instruments. That's why I do that. During our world tours and for inspiration, I like to visit museums: The Metropolitan in New York, The Art Institute of Chicago. One of my favorite artists is the painter Chagall. That is not surprising; we more or less have the same background. To live in freedom and the possibility of having endless dreams, is what my happiness is all about. And of course playing music, which is the most wonderful thing: through the strings of my violin, I try to touch everyone's heart"
Boris Goldenblank was born in 1946 in Russia. He is married and has one son, Alexej, who is also a violinist. Prior to a concert Boris likes to play cards and afterwards enjoys a cigar!
From: André Rieu Magazine, page 161.
Translated by Entia.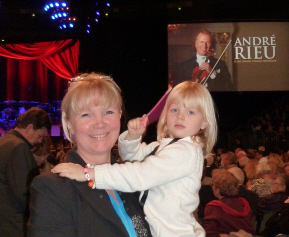 Photo by Ineke, Cologne 2012.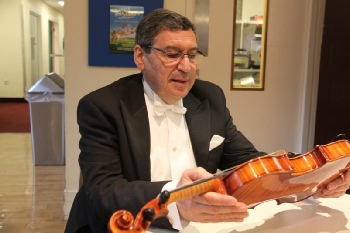 From: André Rieu Magazine,
page 23. Translated by Ineke/John.
From: André Rieu Magazine, page 65. Translated by Ineke / John.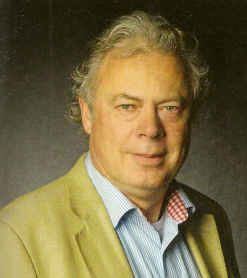 The doctor: Peter de Beer. (Posted: January 10th 2012)
The spotlights are directed on Andre and his Orchestra. But behind and next to the stage is an army of co-workers all very busy. Peter de Beer walks in the shadow of all that. A man who hopes he again does not need to do anything tonight. Always alert and ready to intervene. But would rather not!
It is my task to ensure that everyone can go on stage.
I am André's medical advisor. Responsible for the medical supervision while on the far away tours and the huge concerts within Europe. That is a logical function within such a large company. But it definitely was not so obvious when I first started. Now great pop groups increasingly realize that it is irresponsible not to take a doctor along with them. André and Marjorie saw that already ten years ago and were then already real trend setters. They were aware that in case of medical problems, people always looked towards André. Understandable, he is the boss. But André has to concentrate on his own area. When a concert needed to be canceled in Europe because everyone suffered from diarrhea, they asked me to join the group. And I wanted to do that. In principle I am André's doctor. Always a short distance away from him. Twenty four hours a day on call. And since I am already there, André also makes me available to others. But people are not obliged to see me. They have the freedom to go to another doctor in town. My specialty is travel medicine. I started out as a general practitioner in Dronten, worked for Doctors without Borders in Somalia, the Sudan and Tanzania. Seventeen years ago I settled in Maastricht as a tropical medicine specialist. Because of this background I can avoid a lot of misery in many exotic places. Illnesses which you can pick up there often require special treatment. In addition to that, and that is a very important part of my job, I spend a lot of time in contacts with local hospitals. If for example someone while in Mexico has to go to a hospital, we can immediately be treated by the best doctor. Back to reality, it is my task to ensure that everyone can go on stage. Sometimes, it happens that someone does not feel well on the day of a performance. Within a few hours I have him/her ready to go on stage. And no, I don't use horse medicine. I am not a veterinarian. I am very conservative in my treatments. If I think that someone is really unable to perform, there will be no doubts. If it is not possible, then it is not possible. No matter how huge the interests are. In such a case André immediately accepts my decision. And that's how it is supposed to be.
Peter de Beer was born in 1951in Hengelo. Married to Kinu and father of Akkie (three year old daughter) and Len (6 month old son). He enjoys André's performances every time, but he also enjoys listening equally to the Beatles, John Lee Hooker and Jimi Hendrix.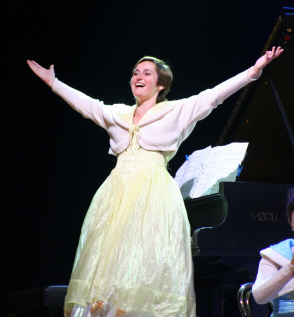 From Andre Rieu Magazine, page 53:
Click on the picture of
Stéphanie Detry
to read the article,
posted in the Harmony Parlor on
January 10th 2012.
Translated by John.
From: Andre Rieu Magazine, page 79.
Click on the photo of
Manoe Konings
to read the article, posted in the Harmony Parlor on January 11th 2012.
Translated by John.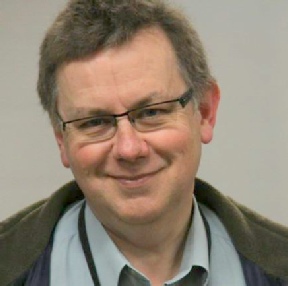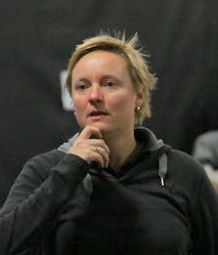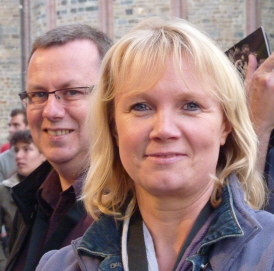 Getting acquainted with......
Chief Operating Officer:
Frans Neus
From: André Rieu Magazine, Page 97.
Translated by: Ineke/John.
Click on the photo to read the article, posted on Jan.13th 2012, on the Harmony Parlor.
André's choices.
(Posted December 2011, page 21).
André's MP3 Top Five:
1. And the waltz goes on (Anthony Hopkins).
2. The Sound of Music (Richard Rogers and Oscar Hammerstein)
3. The second waltz (Dimitri Sjostakovitsj)
4. You raise me up (Rolf Lovland)
5. Le Cygne (Camille Saint-Saëns).
ANDRÉ'S INSTRUMENT, PART 1.
THE LEGEND TELLS IT ALL From André Rieu Magazine, page 91.
Is it acceptable to be nervous with a Stradivarius in your hands? This enthusiastic reporter was and quickly handed it back to our host, the Viennese violin master, Marcel Richters. He was going to clean André Rieu's Stradivarius today; an essential maintenance procedure that has to be performed now and then. But because this instrument has the allure of a Rembrandt, everything seems to be just that little bit different.
MARCEL RICHTERS:
"I WAS USELESS AS A MUSICIAN"
The violin was brought from Maastricht to Vienna by a security guard and Boris Geldenblank, a first violinist in the Johan Strauss Orchestra. And when the maintenance has been completed, it will be returned to the security guard for safe keeping until André's next performance. The fact that it is André's violin that's being overhauled, naturally lends an extra measure of excitement to the occasion. Marcel Richters, however, has no qualms anymore about holding a Stradivarius in his hands. The walls of his studio are adorned by letters of appreciation from many famous violinists; amongst them one from our own Janine Jansen. Thus it is certainly not the first "Strad" that he will be treating. And then it transpires that he still has a few other top class instruments to tend to. He indicates the Domenico Montagna Venice from 1720, the Giuseppe Conasnerie Del Geus "Carrodus" from 1774, and the Gioffredo Cappa Saluzzo from 1730 – all comparable to the value of a Stradivarius. But the precise value remains unknown. Money is not being mentioned in this environment, but it's definitely in the region of several million. And that underlines the purpose of the heavily barricaded doors and windows.
IT HAS TO BE CLEANED…
Before Marcel commences work on the violin, he explains the necessity of the cleaning process. "It is heavy going for the violin. The temperature on the stage is too high due to the lighting. In the long run, the violinist's perspiration adversely affects the wood. The violin also gets taken to exotic destinations – André takes it to America for instance. And then, however unlikely it may seem, sand from the desert also finds its way into the violin. Consequently, it is essential for the preservation of the violin that it is cleaned on a regular basis. However, I won't say that it will sound better in
two hours' time, but the violinist might play better because it is like new again. That would be foremost in the violinist's mind." It is a good violinist who can craft, as well as clean, a violin. But Richters does not find a classical (music) education beneficial. "I myself was useless as a musician. I play some violin and also a bit of guitar. But that is not important. On the contrary, because I don't play myself, I have a better perspective. I search for the best sound. Good violinists who do their work well are always in search of the best possible sound. That is different."
Richters tackles the Stradivarius according to a routine: He looks at it closely, knocks on it a few times and then puts it down again. It is time to eat something first. The instrument remains unguarded on his workbench. Lax? "No, not that. But to me there is hardly any difference between working on a Stradivarius that is worth millions and a violin that is worth a thousand Euro. Although it used to be different. When I did my first Strad I was very nervous. My hands trembled. Compare me to a surgeon – he can also not keep trembling when he cuts into the abdomen."
DEFENSELESS SOUND BOX
And then the 'surgeon' commences his work. He starts with the exterior. In a separate section, a particularly foul-smelling liquid is used to clean the exterior of the violin. Then the patient is returned to the operating table. With utmost care, Richters takes to the side of the violin with a small chisel, taps it a few times and removes the last remnants of dirt from the edges. The interior still has to be cleaned. Everything is executed according to the strictest principles of the trade. He does not use a miniature vacuum cleaner to suction the dirt. But how does he do it? The solution lies in a handful of rice grains that are tossed into the box. He shakes it and the rice and dirt fall out of the holes at the top of the instrument. Phase one has been completed.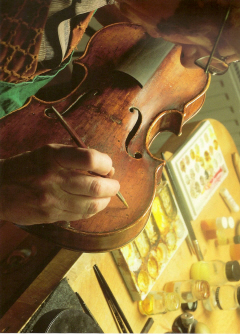 THE PHOTOGRAPHER CAPTURES THE BARENESS….
André is contacted by phone: Any or no new strings? New strings. Phase two: Every part of the violin that can be loosened, is loosened and the entire instrument taken apart. The comb, the strings, the voice screw, the test, the fine buckets and the chin rest. What remains is a Stradivarius in all its bareness. A defenseless sound box. None of its radiant beauty remains.
Phase three comprises the finishing touches. Loose components are checked. There is an air of relaxed, but intense, concentration. Within half-an-hour the violin is restored to its original state – just more beautiful.
EXPENSIVE MODEL
Marcel Richters scrutinizes the violin once more and is satisfied that the operation has been successful. He plucks the strings a couple of times and then puts the instrument down gently so that Govert de Roos can photograph it later. Phase four entails the capturing of the violin's beauty. A couple of exciting hours follow for the photographer. He's had major stars in front of his camera, but not yet one of this caliber….and also never at such close quarters. The photography commences with the photographer knowing that one wrong movement can result in a damage claim for a couple of million. Violinist Boris joins him and clutches his heart. First of all, the certificate (inside the violin, as in the picture above) has to be photographed. With the camera only one centimeter away from the violin, it seems as though a disaster is in the making. Boris is on the verge of intervening. But it is not necessary. This operation has also been executed successfully. Govert wipes the sweat from his brow and proclaims it to be more beautiful than any playmate he has ever photographed.
It is all about the Strad. Security takes it away. The following day it is in the Viennese Concert Hall. Marcel Richters sits in the front row – a content man.
Translated by Entia.

In a separate area an extremely foul-smelling liquid is used to clean the violin and prepare it for a new layer of varnish.
Chapter from André Rieu Magazine,
Page 11, about
Photography by
Govert de Roos.
Written by André. Translated by John.
Click here to read the chapter in the Harmony Parlor.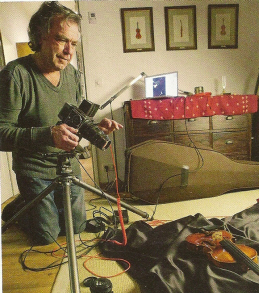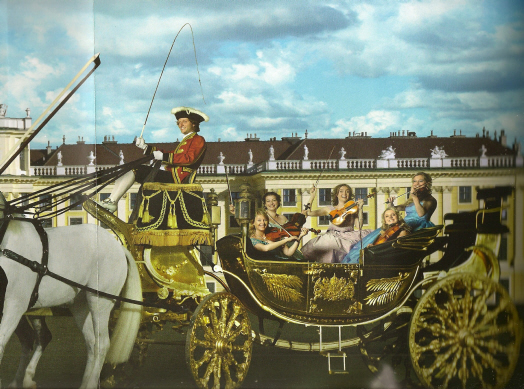 Who noticed Pierre as a coachman??