www.andrerieumovies.com
www.andrerieu-fans.com


Ruth wore a red shirt with "André Rieu crew" on it. (She bought it at eBay!). She was afraid that André's workers might want her to fix the light at top of the lamp standards!
Well, that dress rehearsal was a great experience! Word about the free dress rehearsal had gotten out and we were waiting in front of the entry an hour in advance. It was so crowded, we had to run to get good seats. We managed to get in the sixth row center, for free, and we enjoyed an almost complete concert! Not an empty seat was left! The audience was very enthusiastic. In my opinion they were even more enthusiastic than the audience on Saturday during the
concert!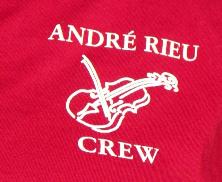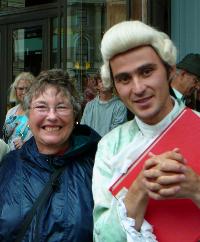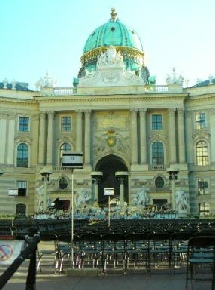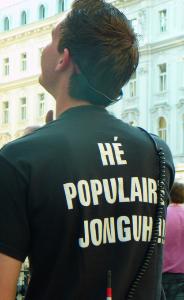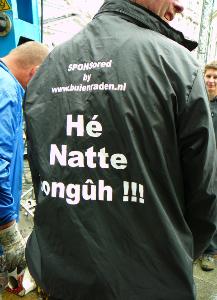 We talked to the André crew and to security people and heard that there would be a free dress rehearsal at Friday.
(translation:
Hey wet guy and
Hey popular guy)
My hubby Ruud had returned home to work, but he would fly to Vienna at Friday. We arrived in Vienna at Thursday. Of course we wanted to see the venue at first. Where were the Roman excavations of the Michaeler Platz?? All covered up with stage and floors! Pierre worked his butt off. The crew had worked all week in the rain, just like they had to do in Maastricht. The Rieu catering camp and the busses were on the Helden Platz, behind the Hofburg Palace.
We heard Marjorie and Marc were there as well, although we did not see them.
Tuesday, 10th July 2007, Jim and Ruth Morgan and I left Maastricht early in the morning to take the train via München and Salzburg.
Changing trains all the time. We had the bad luck that the German railway personnel was on strike that exact day, so trains were delayed.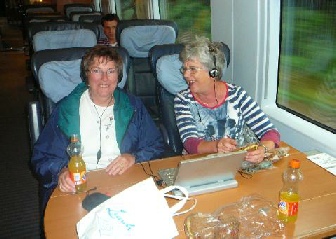 Frederic Jenneges
was in the
show with
a funny
"two
musical
notes
act". Karl
Moik sang
a few
Austrian
songs.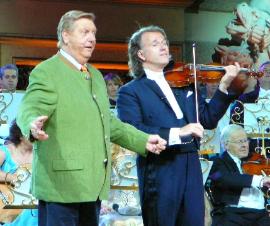 Vienna 2007,
the trip, city and around the concert.
André thanked a certain Mrs. Ursula for making this concert possible in Vienna.
My husband Ruud sat next to another Viennese official, who told him that the Michaeler Platz in front of the Imperial Hofburg Palace is an off-limited place, normally forbidden for any event.
Mrs. Ursula must have been an André fan!! The Michaeler Platz is not so big. I think there was room for no more than 3000 seats. That gave a nice and intimate concert.
In Vienna we met again Torben and Kirsten Esbensen-Schmidt from Denmark, and Helga Kindler and Ursula Jahnke from Germany. Great to meet familiar André fans!!
The end
André talked about food. After having traveled the whole world and having eaten fried caterpillars, boiled dog, and something else horrible, he said he now loves the Wiener Schnitzel! The music came next and we saw the brass section eating, drinking and playing at the same time.
Ruud Merx was holding a big Wiener Schnitzel at his fork. At the encores appeared a (for us unknown) soprano: Dagmar Koller. I have to say: I love the voices of "our own" sopranos better!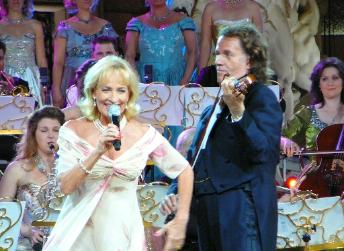 Carmen sang "Meine Lippen, sie küssen so heiss". Mirusia sang "Porgi Amor" from the Marriage of Figaro by Mozart. The show had four sopranos and three tenors. When they sang together, that meant one man missing! So Carmen chose André to sing for (not bad, uh?).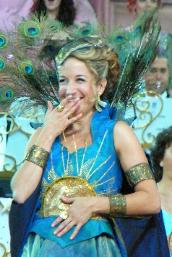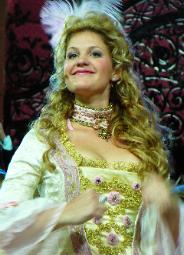 Video: Viennese State Opera Ballet
Dancers from dancing school Elmayer were there, and also the dancers of the Viennese State Opera Ballet, with Jürgen Wagner and Simona Noja (Franz Josef and Sisi) as solo dancers .
Suzan sang a song from the musical "Sound of Music", with Jürgen dancing with her as Captain Von Trapp (it did not make it to the DVD!).
Carla sang "Herr Marquis" in her beautiful blue peacock dress.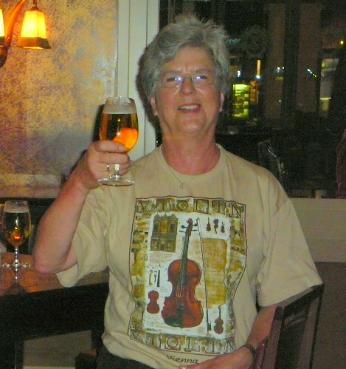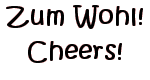 The concert will be broadcast on August 11th in Austria and Germany. Viennese people are used to attending very serious classical concerts. I think because of that they are rather stiff concert audience. The "Mozarts" (men dressed like Mozart) who were selling tickets to the many classical concerts in Vienna, commented adversely about André Rieu: "That is no concert, that is a show"!! We answered: "Yes, it is a concert AND a show, what is wrong with that??
We like that!!".