www.andrerieumovies.com
www.andrerieu-fans.com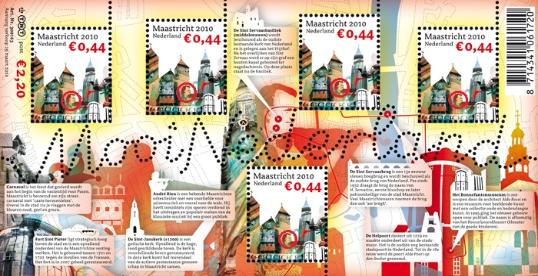 On March 29th, 2010, the Dutch Post Office will issue a stamp dedicated to Maastricht.
This stamp will show some highlights of Maastricht: Carnival, Fortress St. Pieter, the Bonnefanten museum, The Basilica (oldest church in The Netherlands) and St. Jans church on the Vrijthof, the St. Servaas bridge (oldest bridge in The Netherlands), the Helpoort (oldest city gate in The Netherlands) and André Rieu as Maastricht's famous "son".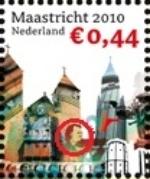 This stamp is part of the series "Mooi Nederland" (Beautiful Netherlands). Each year five cities in The Netherlands will have a sheet of five stamps dedicated to them. Traditionally this stamp sheet is only sold in that city and through the Philatelic service. A total of 97.000 sheets have been produced, many of them will go straight to collectors.
It is possible to order the sheet through the Dutch Philatelic service.
Unfortunately this service will charge high handling costs: €7.50 for Europe and €15 outside Europe and this all for a sheet with a face value of €2.20!
The time frame to order these stamp sheets through me has expired. In total we ordered and shipped 62 sheets.
If you are still interested in obtaining your copy, please send an email to the philatelic service of the Dutch post office: collectclub@tntpost.nl