www.andrerieumovies.com
www.andrerieu-fans.com


Maastricht 2014
The Dress Rehearsals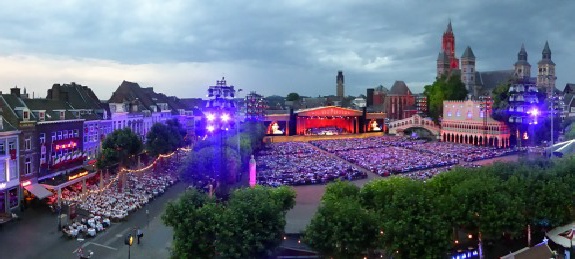 (Dress) rehearsal on Thursday July 3

rd

, 2014
Today not one but two rehearsals, one at 5 PM (sound check) and one at 8 PM.
During these rehearsals, the crew can setup the microphones, light, background etc. See how André is involved with all details, a microphone level set incorrectly: he stops and have it checked/adjusted. Regularly he walks away from the stage to a point halfway on the Vrijthof, to hear what the audience will hear.
This year there was a surprise visit by the mayor of Maastricht, Mr. Onno Hoes.
Happy viewing! The video below will last 50 minutes!
Dress rehearsal, Thursday July 10

th

, 2014
Like every year the concert without music. Much beloved by the audience.
See André work, making corrections etc. This time he recorded all introductions in both English and German. Frequently you hear him speak with Pit Weyrich, the recording director, who sits in a backstage truck with André's wife Marjorie. During the German texts he regularly asks Pit or the orchestra for the correct pronunciation or spelling of German phrases. Some of the German words he sometimes says when things go wrong will not be translated… Have fun with this 53 minutes of video.