www.andrerieumovies.com
www.andrerieu-fans.com


Maastricht 2014
Fan Dinner
On Friday July 11th, 2014 we held our 10th fan dinner.
For an impression of this event please see the video below.
Ineke wrote an additional story, illustrated with photos.
Fan dinner 2014.
We ended up with 160 attendees of 18 nationalities; in order of majority: UK, Australia, Netherlands, USA, Belgium, Ireland, France, Brazil, New Zealand, Denmark, Germany, Malta, South Africa, Estonia, Spain, Sweden, Canada, Italy.
As usual, Ruth Morgan created the new 2014 buttons for everyone attending the fan dinner and picnics. Ruth does the preparations at her home in Lake Tahoe, sends a big box to us, we bring it by car to Maastricht and in the hotel she will spend yet more hours completing them. She was assisted by Kathy Chamblin (USA), Steve Russ (Australia) and Adele Geritzen (Italy). Ruud and I had received a big "vlaai" (fruit pastry) as a gift, so we served pastry and coffee to the workers in the hotel. A funny story is that Sue Berry of the Harmony Parlor, likes to write the word "vlaai" as "fly", for it is pronounced like that. New fans understood that the Dutch people were eating "flies" as a tradition….. No, no fans, we don't do that!!!! We prefer the fruit cakes!!! Alice Leung from Vancouver, Canada, created new flags as a boat decoration and to wave during the concert. The Brazilian fan group provided us with Brazilian André Rieu jubilee stickers. The Australian contingent brought souvenir pencils for everyone on the ship to take home. As usual we brought Cardboard André to welcome all the fans on board the ship. Due to the record number of attendees, we hired Stiphout's largest Maas (river) cruiser, the "Geulvallei" - a beautiful ship, with a very kind staff and delicious food.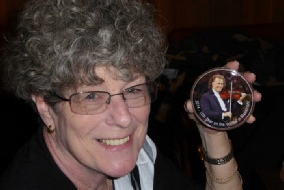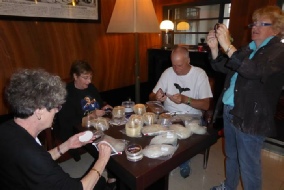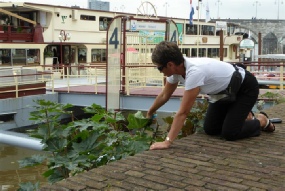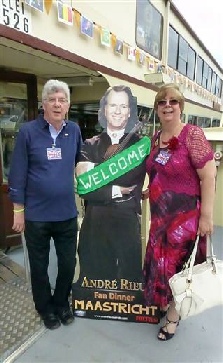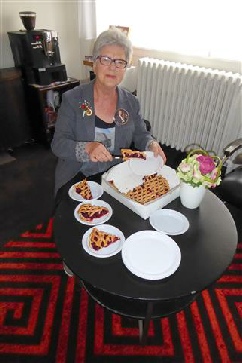 During the past few days reporters and photographers of the Limburg newspaper approached us for interviews. We think special attention was being paid to the Rieu concerts and everything around it because of the 10-years jubilee. André gave a series of concerts on the Vrijthof square for ten consecutive years. And for 10 consecutive years we organized a fan dinner in Maastricht. We started in 2004 with 15 people and grew to 160 fans in 2014. Entia, an André fan in South Africa, was so kind to translate both newspaper articles into English, so all fans around the world could read them. John de Jong, our Californian translator, was at this moment - as you might guess - on holiday in Limburg and Maastricht to attend the concerts and visit family (he hails from the Netherlands)! Concurrently, Ruud and I were partying in Maastricht too, of course. Sue Berry, from the Harmony Parlor is home in California, USA. Hence Ruud and I sent the article in Dutch to Entia and Entia sent the article in English to Sue, and Sue posted it on the Harmony Parlor for you to read. That's how it works: we have a great team!!!
Please click HERE to go to the first article: "Without a ticket on the first row" and please click HERE to go to the second article on the Harmony Parlor: "Rieu fans reunion becoming ever busier".
After we had decorated the ship, the people could enter at 4.30 PM. We even had to prune the bush on the quay, to make a better group photo possible. On board the ship were three people who celebrated their birthdays on the 11th of July. We sang "Happy birthday" and I had some small surprise gifts for them. The Aussies love fancy-dress and chanting "Aussie, Aussie, Aussie, Oi,Oi,Oi." Imbi, the Estonian lady, entered the ship on wooden shoes. We had left our orange outfits home, because we already knew that the Dutch soccer team would not reach the final to become the World Champions. Checking our attendance list, we missed the very first couple of Spanish fans. They arrived when the main course of the buffet had finished and the dessert was being served. Nevertheless, the lovely Stiphout staff still gave them a full meal, dessert, drinks and coffee, and although they only participated in the last 30 minutes, they told us they loved it.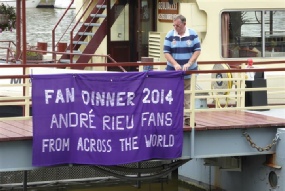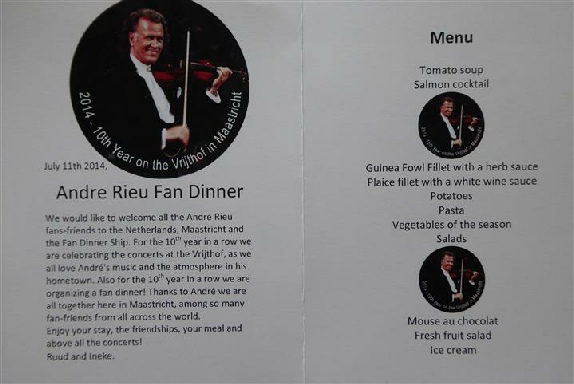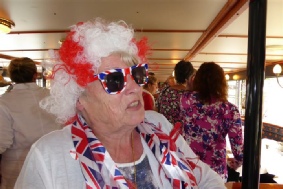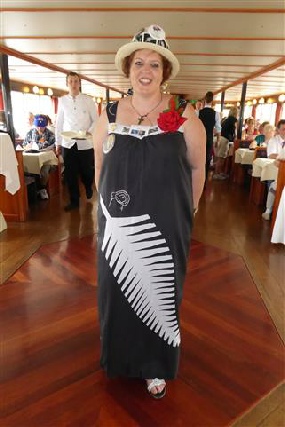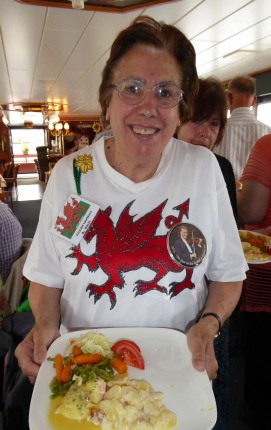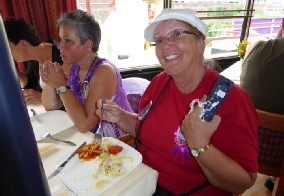 Then it was time for the group photo outside the ship. As usual, Al Girard, our Canadian cameraman, took the group photo. While he was setting up his camera, we sang the Abba song "Thank You for the Music" as a tribute to André for giving us so much joy over the course of all these years.
After the fans left and we had removed the decorations from the ship, we walked back to the DuCasque Hotel. Right in front of the hotel we bumped into the Maastricht Mayor
Onno Hoes and his partner Albert Verlinden, who you may recognize as the RTL Boulevard reporter (Dutch TV Program). Of course a photo was taken with them!
Ineke, July 15th 2014.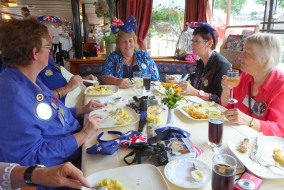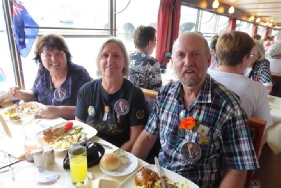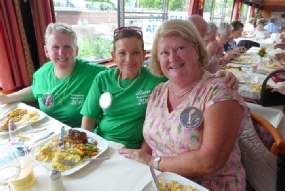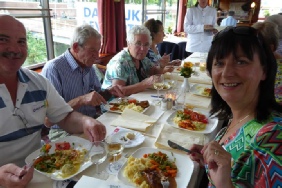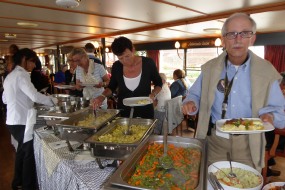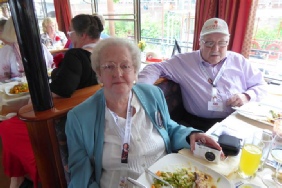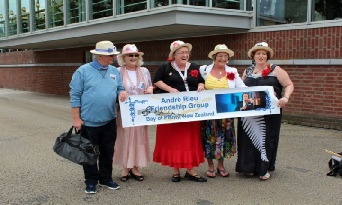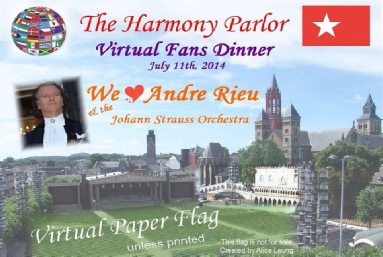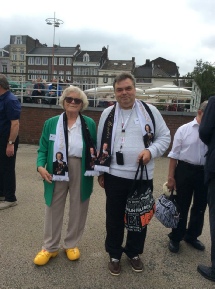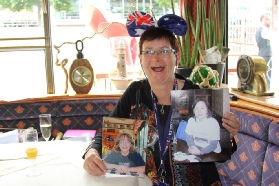 André fans in Maastricht and all across the world at home, were connected in spirit.
Laminated Sue Berry and Alice Leung were present at the real fan dinner.
Alice Leung and fans at home had organized a virtual Fans Dinner on Facebook.
Virtual Guest of Honor was Laura Engel.
Imbi Raid from Estonia on clogs.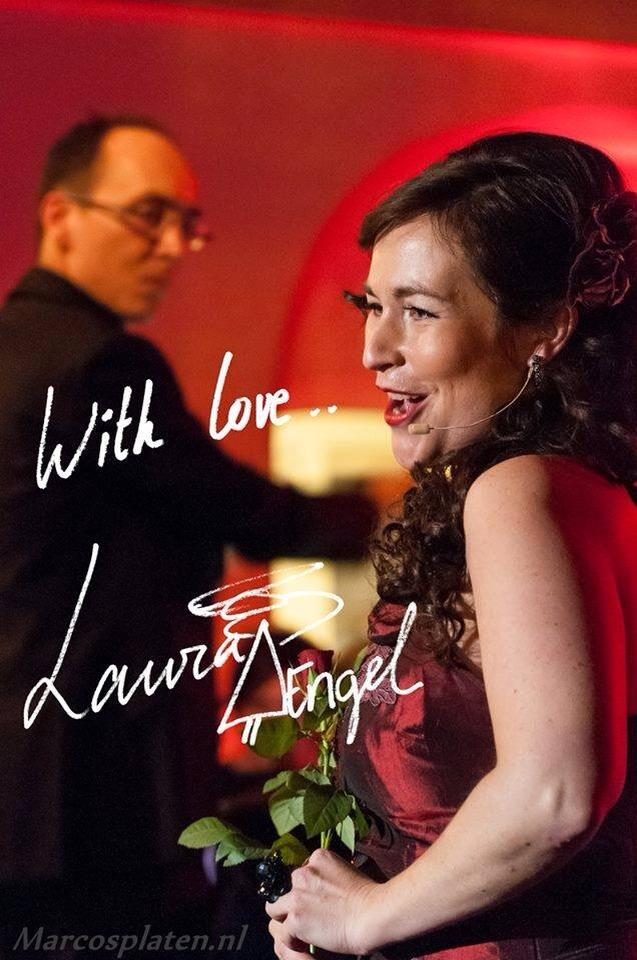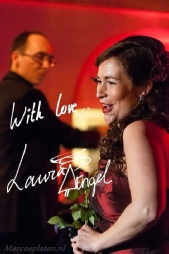 New Zealand friendship group
Ruud and Ineke like to thank all fans for their tokens of appreciation. MaryAnn Coppola (USA) passed away at the beginning of the year. We missed her joyfulness and humor. Among all the gifts George Harpers card touched us very much. We love you George, Sue and Connor in Inverell, Australia. Keep up the spirit!
"George Harper and family wish to thank all those people involved in their untiring work with Andre Rieu fan sites. In particular Ineke and Ruud, Sue, John and Bobbie.
Words will never express the help your endeavors give to me, as I continue to battle illness.
I have gained friends throughout the world, whose support for myself, Sue and Connor is simply amazing. Music is truly my best medicine. We send love and greetings to all in Maastricht".