www.andrerieumovies.com
www.andrerieu-fans.com


New Year's Concert in Cologne, Germany.
January 1st 2014
For the fifth consecutive time Ruud and Ineke attended the New Year's Concert in Cologne, Germany. We think it is the best way to start a new year: first celebrate New Year's Eve in the Hotel with fan friends and champagne; then the next day an impressive and festive concert in the Lanxess Arena, followed by a dinner in the famous restaurant "Früh" with fan friends from Holland (us), France, Malta, the UK, and Germany, organized by Elke Freitag. Thanks a lot, Elke! We ate typical German food which we liked very much, and we drank the Cologne beer. Music and friends: a magical combination.
As usual we checked our engraved lock at the railway bridge, which is a symbol of an ever lasting love and friendship: Ruud, Ineke and Natascha (our granddaughter). We added the lock in 2010. To our regret Natascha was not able to join us this time, because she is very busy with her studies in Almere, the town where she now lives.
Track list of the concert: Seventy-six trombones - Dark Eyes - Second Waltz - Granada (tenors) - Ach, ich hab' in meinem Herzen (tenors) - This land is mine (tenors) - Snow Waltz - Memories (Mirusia) - Red Rose Café - You'll never walk alone.
After the intermission:
Gold and Silver - Adios Nonino (Carlos Buono) - Libertango (Carlos Buono) - Non ti scordar di me (tenors) - Chianti Song - Blue Danube - Oh Fortuna.
Encores: some traditional songs from Cologne, and the audience sang along happily!
We saw Brazilian flags in the audience, as well as many Danish flags.
The interaction on stage between André and Carlos during the Argentinean songs, was fascinating to see. Both were immersed in the music. Wonderful!!!
Aside from the first class music, André's entertaining speeches, his funny interaction with the audience during the break and a wonderful atmosphere in the hall, what else attracts the fans so much to this orchestra? We now might reveal the secret that the five Dutch scientists from the Maastricht University are looking for. They need two years to discover it, but the fans knew immediately! It is the sum total of many things! It is because all JSO members feel like family / friends to the audience. We quote here the words which a New Zealand fan used on Facebook: "The JSO is the first orchestra where I am actually aware that the orchestra members have names, personalities, family ties, etc." That is true. So, we are very happy to tell you that in Cologne we heard that Stephanie Detry gave birth to a son (Martine Wijers replaced her on the piano) and we saw a gorgeous-looking, pregnant Kalki on stage. The babies keep coming in the orchestra!
During this first concert of the year the female soloists were: Anna Reker (choir), Mirusia and Kalki Schrijvers (choir). Carla, Carmen and Kimmy were not there, but our friends told us that Kimmy was back on stage on January 2nd.
Below is a video compilation of the first Cologne concert (the encores), created by Ruud.
No better way to start a new year!!
The Cologne New Year's Concerts have been a tradition for many years and we had already purchased concert tickets for 2015. On January 8th we received a message that André had cancelled the Cologne concerts on 1 and 2 January and moved them on to February 2015. We don't know why but we assume that André must have good reasons to make such a decision.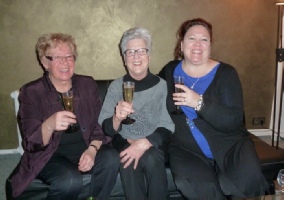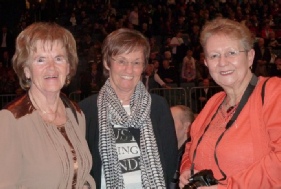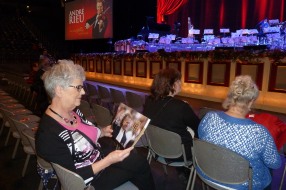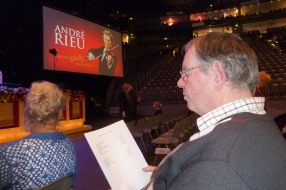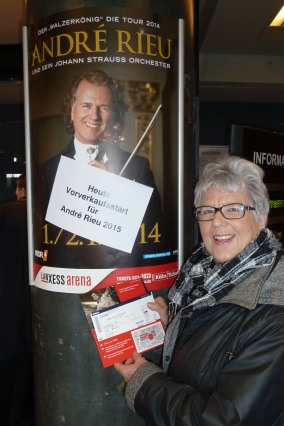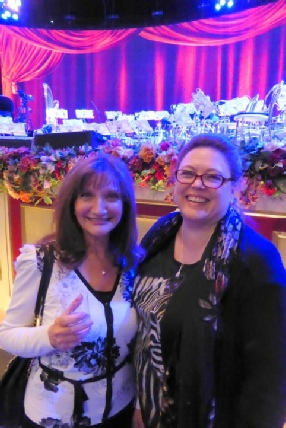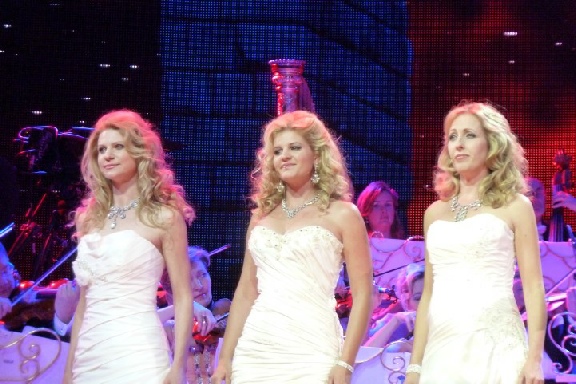 Anna Reker, Mirusia and Kalki Schrijvers.
Ruud, Erika, Ineke, Martine
The tickets for 2015 are in the pocket!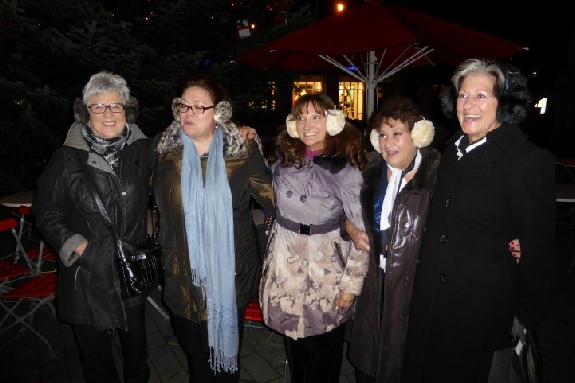 Ineke, Martine, Anna, Mireille, Elke…. with ear muffs! ( A present by Linda).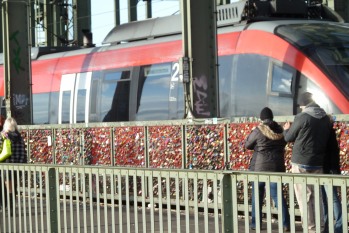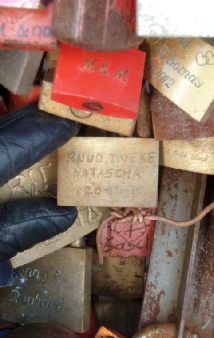 The railway bridge in Cologne with our lock!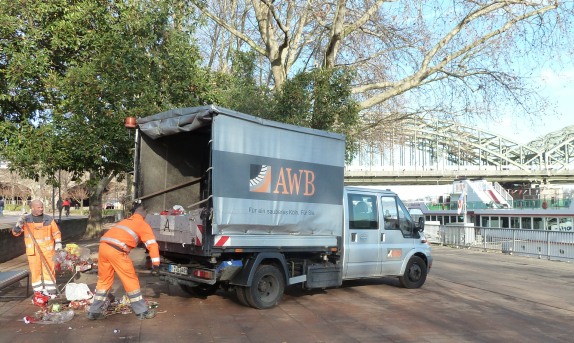 Compliments to the community of Cologne. The cleaners worked night and day to remove all the New Year's Eve trash! You see the bridge in the background.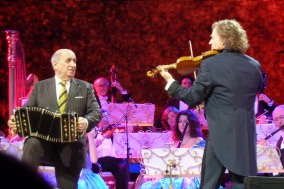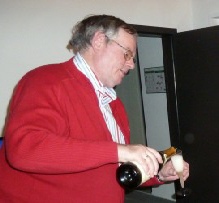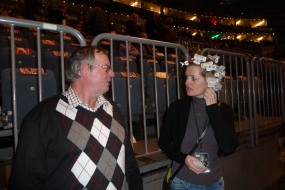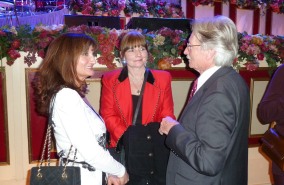 Ruud and Lin, before the concert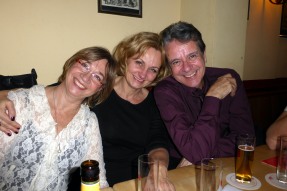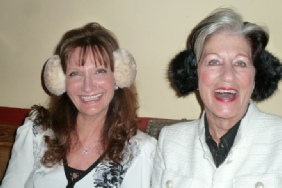 Maria, Ulrike and Richard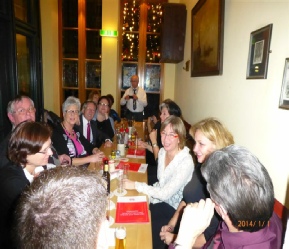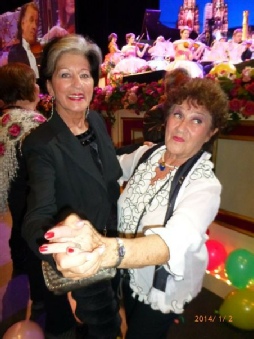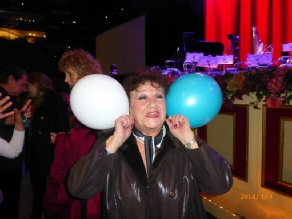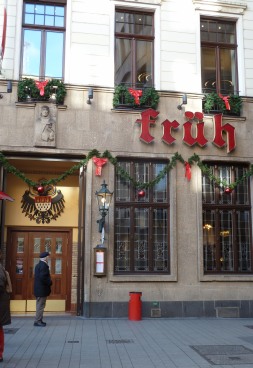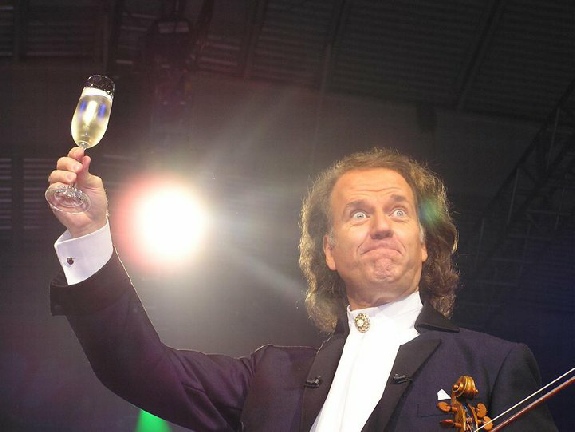 Happy New Year André Rieu and Johann Strauss Orchestra. Stay happy and healthy.
Your fans hope you will play forever!!
Thanks to Nino Freitag for sending us his photos!