www.andrerieumovies.com
www.andrerieu-fans.com


Cologne Jan. 2013
New Year's Concert
On December 31st 2012 Ruud, Ineke and Natascha travelled to Cologne for the New Year's concert. Cologne is in Germany just across the Dutch border. The train ride by high speed rail from our hometown of The Hague to Cologne was almost three hours. In our hotel we met Anna and Joe Brincat and also Father Joe, all from Malta, Martine and Jean-Louis Calvinhac from France, Linda and Richard Oswick from the UK, Elke and Nino Freitag from Germany. Here are a few of our best fan photos, eating, drinking, having fun, celebrating New Year's Eve, watching the fireworks in Cologne along the banks of the Rhine.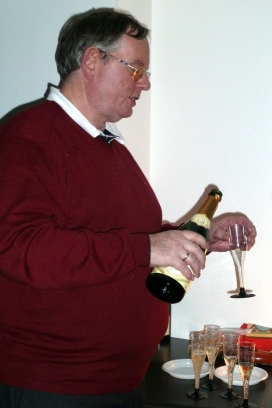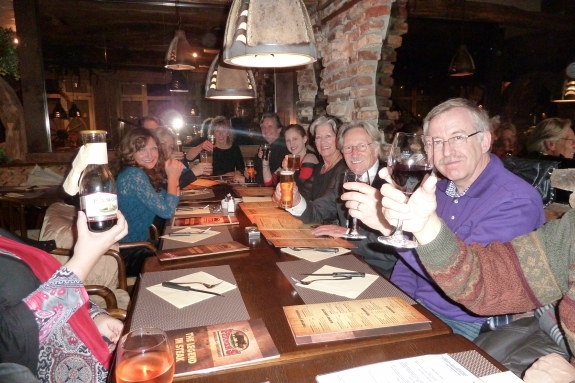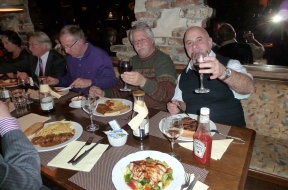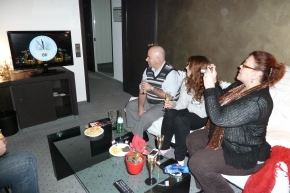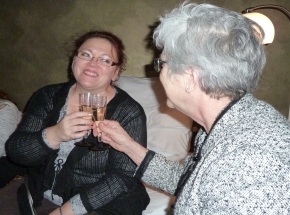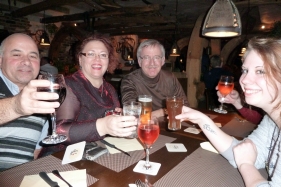 Proost, prost, cheers, santé, skal, na zdravi, egészségére,
cin cin, saúde, noroc, iSalud, ypa!
HAPPY NEW YEAR to all our fan friends from all over the world.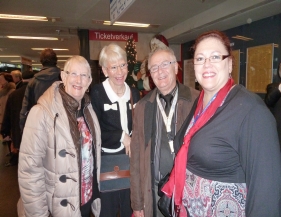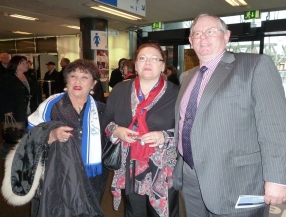 Running time: 13 Minutes 36 seconds
If you have trouble watching the above video, click here for instructions.
In the Lanxess Arena we met more friends: Marie and Joel Guilmand along with Mireille Jourdan from France, Francine from Belgium, and many German and Danish fan friends. They told us that four buses from several Danish travel agencies had arrived in Cologne for the concert! No better way then to start the new year by attending an André Rieu New Year's concert and having a party with friends! André performed here in the Cologne Arena for his New Year's concerts for the 25th time in a row.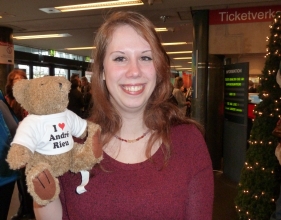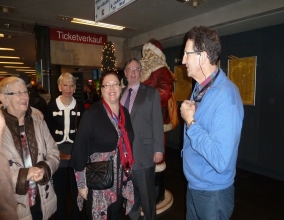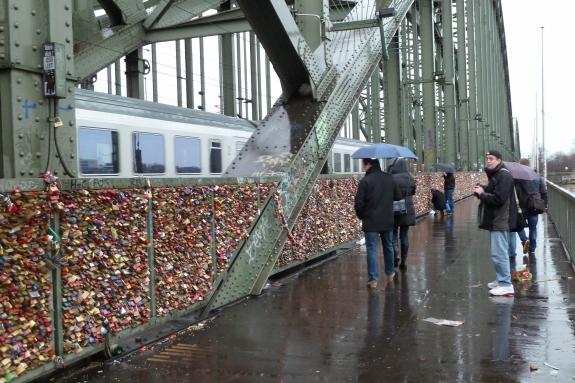 Have you ever heard of the Cologne tradition of fixing a lock to the railway bridge as a token of love, friendship, or unbreakable relationship? The key of the lock must be thrown into the river Rhine. We placed a lock there in 2010 and on a rainy New Year's Day of 2013 we checked to see if it was still there. Yes, we found it! Do you see it?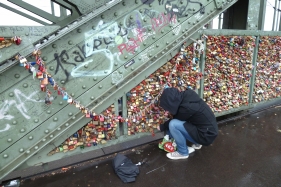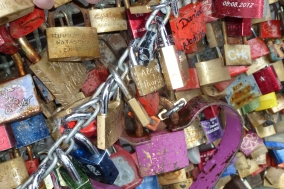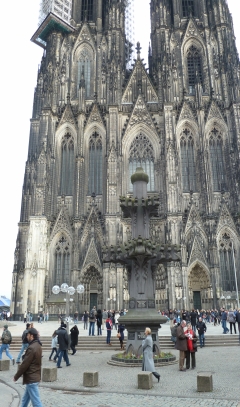 Thank you Cologne for a few wonderful days and the Heinzelmännchen (gnomes) cleaned up the firework rubbish at night!!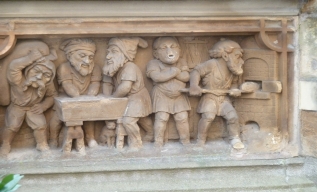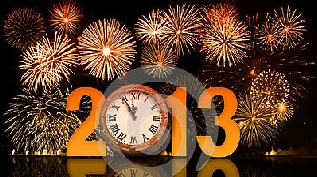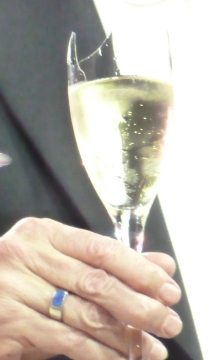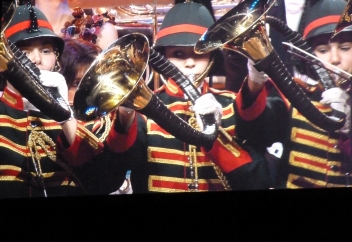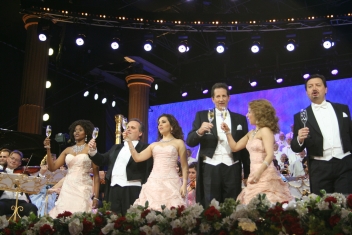 Gary Bennett toasted a little bit over enthusiastically with Carla and broke his champagne glass! Later on he said it was the first time in seven years that this had happened!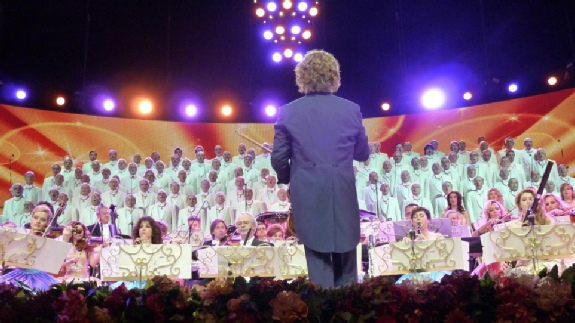 The male choir "The Mastreechter Staar" entered the stage with burning torches to the
"Conquest of Paradise". Very impressive.
Soloist Ber Schellings performed the Russian "Twelve Robbers Song". Goosebumps!!
The hunting-horn and trumpet corps Edelweiss from Heerlen was also present.
Kimmy Skota
gave a brilliant performance of "Casta Diva",
from the opera Norma by Vinzenco Bellini.
She is world class!! Really amazing!
Click on her photo to hear Casta Diva, you won't be disappointed!
We can assure you that the concert was wonderful as usual.
André was in a top form. Slim, healthy, happy and enthusiastic as always.
The Arena was not sold out but André, orchestra and soloists know how to touch the audience again and again and there were laughs, tears, and a happy audience. Marjorie was behind the scenes. The hall was filled with family and friends from JSO members and a festive reunion atmosphere of fan friends from across the world. It feels like a warm family party. A great New Year's tradition. No snow in the hall, but the balloons are always there. All night long while in the hotel again, the song "Viva Colonia" kept playing in our heads!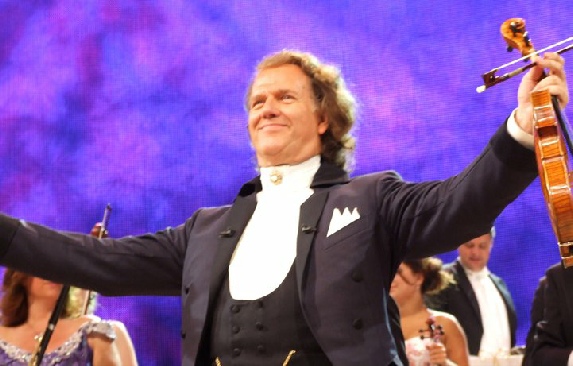 1. Seventy Six trombones
2. Schwarze Augen (Black eyes)
3. Roses from the South
4. Ob Blond, ob Braun
5. Non ti scordar di me
6. Intermezzo Sinfonico
7. Wolga song
8. Song of Olympia
9. Amigos para Siempre
Track list of the Cologne New Year's concert:
10. Conquest of Paradise
11. Soldiers choir
12. Twelve Robbers
13. Hunters choir
14. Casta Diva
15. When I'm sixty four
16. Blue Danube
17. Funiculi funicula
18. Oh Fortuna.
Encores: Radetzki March, Strauss and co, several songs from Cologne, Viva Colonia, The last Rose of Summer, the Wild Rover, Adieu mein kleiner Garde Offizier, Brazilian Medley.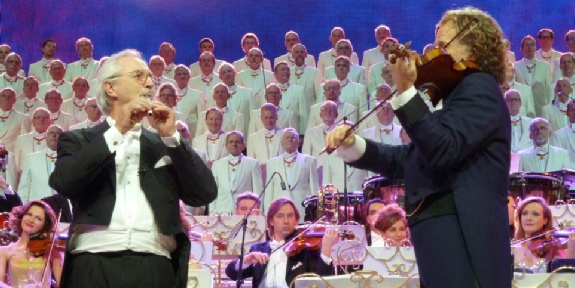 Teun Ramaekers lived it up on the penny whistle, in The Last Rose of Summer.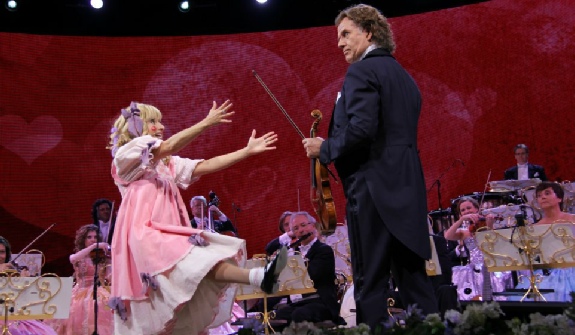 Carla Maffioletti is unique in her performance of the Olympia Song by Jacques Offenbach.
Thank you André Rieu, you definitely enriched our lives.
We learned to enjoy classical music, because of you.
We have been to so many interesting places, because of you.
We have met so many wonderful friends, because of you.
Photo from André's website, taken by Frank Steijns, while leaving the stage, because the concert was over. We were still standing up front.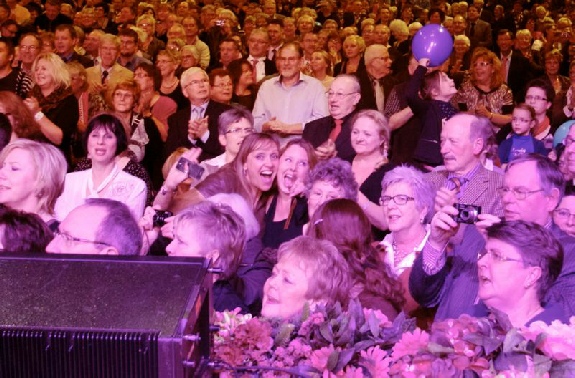 To our surprise, this photo appeared on André's official website.
It was taken by Frank Steijns, while the orchestra was leaving the stage because the concert was over. We were still standing up front. It was the end of a wonderful afternoon concert on New Year's Day 2013.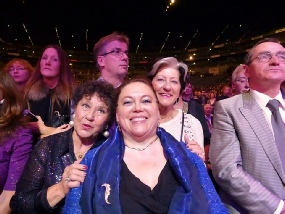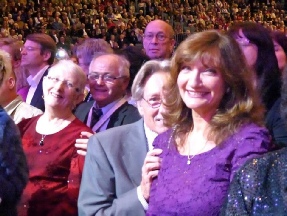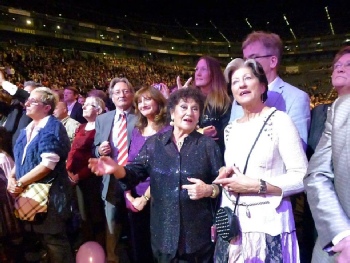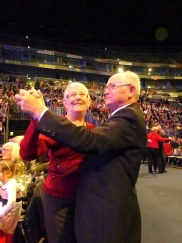 Photos by Martine and Nino.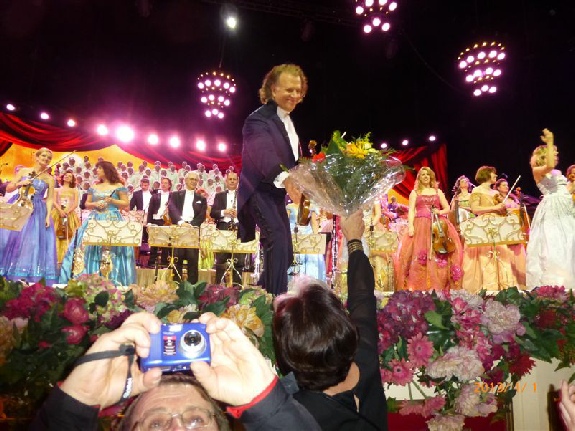 Video of Conquest of Paradise (Mastreechter Staar) by Gitti Marie.
Elke Freitag is giving flowers to André.