www.andrerieumovies.com
www.andrerieu-fans.com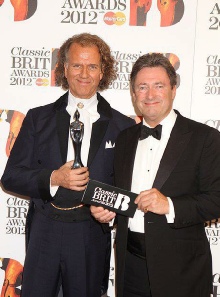 October 2nd 2012: André Rieu wins the Classic Brit Award
for the best Classic FM Album of the Year: "And the Waltz goes on".
This waltz is composed by Sir Anthony Hopkins.
Congratulations André and Sir Anthony!!!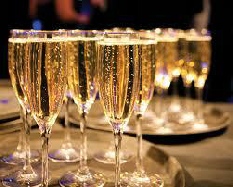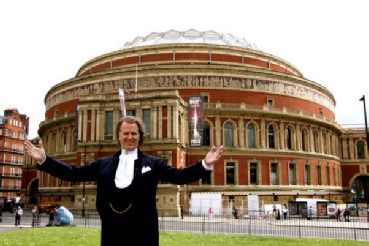 October 2nd 2012:
Our Dutch TV program "Show News" just confirmed that André Rieu has won the Classic Brit Award in the category of best classic FM album of the year, with "And the Waltz goes on".
Sir Anthony Hopkins and his wife Stella were in London,
together with André and the JSO. Congratulations!!
André and Alan Titchmarsh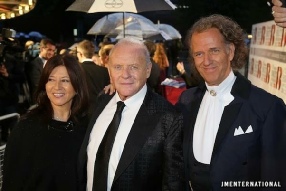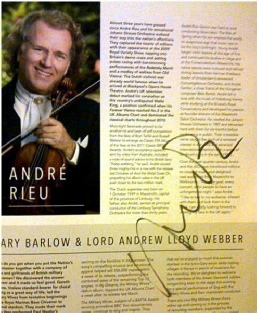 Steph scored an autograph (left).
And on the picture below you can see Adele behind Andre!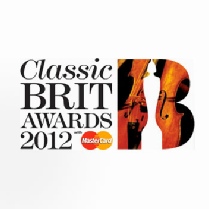 September 2012:
André nominated for Classic BRIT Award 2012
André's album "And the Waltz goes on" is nominated for Classic FM Album of the year. You can vote for André and be in with a chance of winning two tickets to the ceremony at London's Royal Albert Hall on October 2nd, 2012.
Our fan friends Stephany Padgett and Adele Geritzen will be there!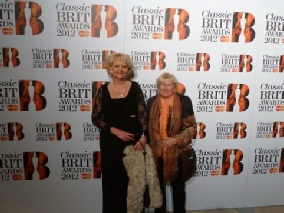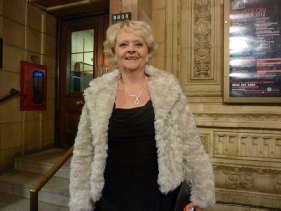 Stephany Padgett and Adele Geritzen,
October 2, 2012, Royal Albert Hall.
Adele Geritzen was in the Royal Albert Hall.
She commented on Facebook about Classic Brits:
The show opened with Andrea Bocelli singing Amazing Grace. Later a sketch from Phantom of the Opera, Nicola Benedetti played Schindler's list, Russel Watson sang the Vangelis Chariots of Fire, a lovely young guitarist called Milos played Tales of the Alhambra & Libertango, London Chamber Orchestra tribute to John Williams and the finale was with Military Wives, Andrew Lloyd Weber & Gary Barlow (Take That ?) on stage. Andre & JSO were first up after the interval.
During the interval they set up the stage for the JSO. the orchestra members quietly took their places. Andre was pacing up and down just off centre stage, to be the opening number of the second half, with Roses from the South.
Pierre was sitting at one of the front tables with the Hopkin's and Andrew Lloyd Webber. Once Andre had finished Roses from the South, he went and joined the table. As Alan Titchmarsch started to announce the ten nominees for the Album of the Year Award, Andre removed his glasses, a fairly sure sign that he was getting ready to go up and receive the award. I don't believed it was 'rigged' as some have suggested on this site, but I do believe he was informed well before the show since the voting was closed a couple of days before.
Steph Padgett was also in the Royal Albert Hall!
Click here to read Steph's wonderful report on the HARMONY PARLOR.
October 7th 2012: André received the Award.
Mike Worsdell sent us these YouTube videos. Thank you Mike!