www.andrerieumovies.com
www.andrerieu-fans.com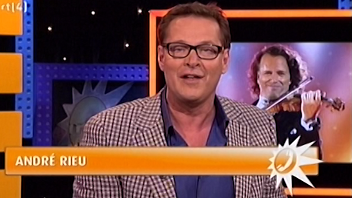 On Thursday April 19th, 2012 André Rieu gave a first -and only- interview to the Dutch program Boulevard about his latest illness and return to the stage. See what he now does to remain fit and to have some more time for himself.
André returning to stage!
Boulevard, April 18, 2012
Running time: 3 Minutes 42 seconds
If you have trouble watching the above video, click here for instructions.
Reports and photos, sent by our Danish and Swedish fan friends!
On April 20th 2012, a huge wave of excitement moved all around the world: our dear Maestro would start his concert tour again in Odense and Copenhagen (Denmark) after having been ill since mid January.
Our Danish and Swedish fan friends sent us photos and reports. Enjoy!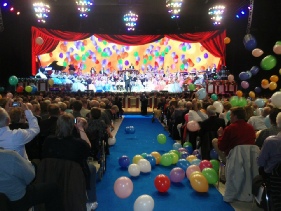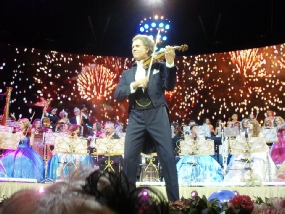 A small report from yesterdays concert: Copenhagen, April 21st. By Anne Buch (living in Sweden).
André good looking as always, cheerful, just like we use to know him. The Popchuck twins were there. Natalie, Lara and Nadejda were in the orchestra again. It was as ever before, celebrating JSO 25 years Birthday, with looking back on all those years and playing the "oldies but goodies".
Frédéric Jenniges, and The St Petersburg Trio were there and gave the same pieces as so many times before. Nessun Dorma, created standing ovations, as did Kimmi's Vilja Song (goose bumps). Frank played his carillon to perfection, I may add.
Carla did the Doll song, and she really hit the very very high notes and "played" more with her voice as ever before. We danced to The Blue Danube. In the encores were Adieu Mein Kleine Garderofficier, Zorba Dance and Marina as showstopper.
Playlist:
Seventy Six Trombones, Alte Kameraden, G'schichten aus dem Wienerwald/The third Man (Frédéric Jenniges with the usual fun!!!!! )
Tiritomba The Platin Tenors WONDERFUL, I have never heard them singing that song before!!!! Nessun Dorma, Concerto de Aranjuez, Circus Renz (Frank and Marcel), My Fair Lady. After the intermission: Poliusko Polie, Kalinka, Vilja song, Wiener Blut, Sportspalast walzer, Olympia's song, An der Schönen Blauen Donau, Bolero (with Marcel AND Glenn), Radetsky March.
It was a very nice evening and wonderful to see André fit again.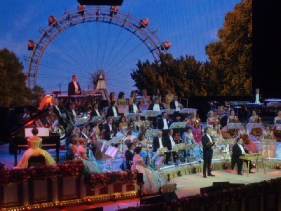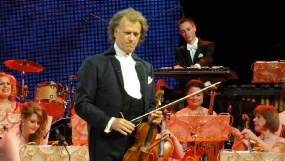 An enchanted evening in Copenhagen, by Kerstin Lundberg (living in Sweden).
André Rieu is back on stage! Last night in Copenhagen he showed us that he is feeling good again. It was a wonderful concert and André was smiling, joking, telling stories and played lovely music.
The JSO celebrates their 25th anniversary and André wanted to give us some of the highlights from these years. And so they did. Together with Kimmi Skota, Kalki Schrijvers, Carla Maffioletti (who is back on tour again, lovely), The Platin Tenors, Frédéric Jenniges and Trio St Petersburg, they gave us a night to remember. Most of the music was very familiar. I myself only heard one song that I have not heard before. It was "Tiritomba" with The Platin Tenors. Frédéric Jenniges of course plaid "G´schichten aus dem Wienerwald and "Third man" with all the funny things that go along with those. Trio St Petersburg played their lovely tunes "Poliusko Polie" and "Kalinka" and as an encore "Zorba".
I am so pleased that Carla is back, I have missed her. She did "Olympia's song". It is always funny and she is doing it so well. Kimmi sang the "Vilja song" and did it very well. We also heard Frank Steijns play on his bells, alone in "Concerto de Aranjuez and together with Marcel Falize in "Circus Renz". They are both marvelous musicians. A real highlight was to hear Glenn Falize play along with his father on stage in the "Bolero". I got goose bumps.
And then of course there were waltzes! André made the audience give a tribute to Johann Strauss jr because of all his beautiful music, which we gladly did.
I just wonder, would it have been another concert if Mirusia had been there as it was planned in the first concert, the one that was canceled? I did miss her and there would have been other songs, but still we enjoyed the concert sooooo much!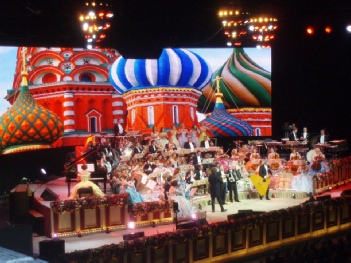 Hello from Denmark!
We were also to the concert in Copenhagen yesterday, and it was great to see Andre back again. We all had a wonderful evening. Now we are looking forward to the concerts in Budapest. Best regards,
Torben and Kirsten Esbensen (living in Denmark).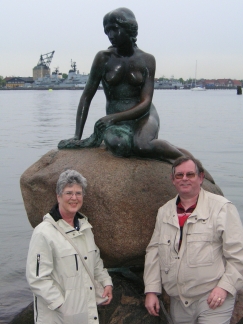 We were in Copenhagen in 2005.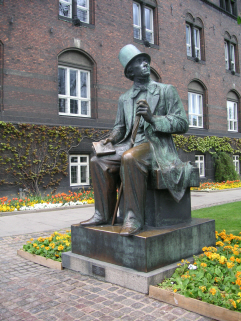 Hans Cristian Andersen was born in Odense, on the isle of Fyn.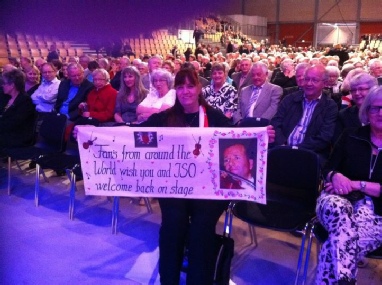 André and JSO were welcomed back on stage in Denmark, by Anitha Andersen and her banner.